Eye on Albany
Newsletter
Sign up today to get weekly updates on Albany issues!


What's My District?
Find by Borough...
Find which State Senate and Assembly districts you are in -- and learn more about what's going on in your neighborhood.
Find by Representative...
See a chart listing all State Senate and Assembly Representatives
The Board of Elections'
Polling Site Finder
shows New York City residents where to vote and provides your US congressional district, State Senate and Assembly districts, City Council and Civil Court districts.
Exclusive: Proposed policy would allow industries to self-audit pollution-generating activities
May 24, 2012 — Industries that use pesticides, treat wastewater and store hazardous chemicals could have penalties for breaking pollution laws reduced or waived if they agree to self-report violations under a policy being considered by New York's leading environmental regulator.
May 22, 2012 — For state Sen. Gustavo Rivera, getting healthier is not just a personal goal. He is also making it a cornerstone of his policymaking. This spring, he is introducing a package of health bills, including one that would ban smoking 100 feet from school entrances.
Senate Dems Look to Nat'l Issues for Help
May 15, 2012 — Redistricting, corruption trials and the rise of a breakaway faction of Democrats willing to put up candidates to challenge incumbents. In spite of the bad news, Senate Democrats hold out hope.
Cuomo Proposes a New Agency to Help Disabled
May 08, 2012 — Gov. Andrew Cuomo proposed legislation on Monday that would create a new state agency to investigate and prosecute cases of abuse and neglect of disabled people.
Critics Attack Influence of the Committee to Save New York
May 03, 2012 — Gov. Andrew Cuomo has repeatedly decried the influence of money in politics but he has been the beneficiary of one group's intense spending. Jonathan Camhi looks at the Committee to Save New York.
State Legisalture Battles Over Minimum Wage Increase
May 02, 2012 — NYC isn't the only place for wage debates as state legislators are in the grips of a clash over a minimum wage increase.
Federal Reports Warn of Staff Shortages at DEC
April 27, 2012 — Federal reports warn of staffing shortages at the Department of Environmental Conservation in areas that are "critical to protecting public health."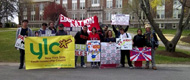 April 16, 2012 — Students and advocates push Albany to pass the DREAM Act during current legislative session after Governor Cuomo declines to include the bill in his state budget.