Transportation
Newsletter
Sign up for our monthly Transportation newsletter:


Transit Riders – More For Work, Fewer For Fun
by Bruce Schaller
Sep 2006
New York City's transit system received some good news recently when data from the United States Census Bureau showed an up tick in the number of people commuting by bus and subway. There were 91,000 more New Yorkers taking buses and subways to work each day in 2005 than there were the year before.
This reverses a long-term trend. The number of commuters who take public transportation had fallen from 65 percent in 1960 to 53 percent in 1990. It is now back up to almost 55 percent.
It is interesting to note that riders actually returned in droves after 1990, but the growth was in trips to shop, or for entertainment, or to socialize – everything except going to work.
A number of factors contributed to the increases, as I detailed in a report: the sharp drop in crime, two decades capital work to rebuild the transit system, MetroCard fare incentives, immigration, population growth and increased shopping opportunities near subway stations.
Now more people are taking transit to work, but traveling for non-work purposes has leveled off.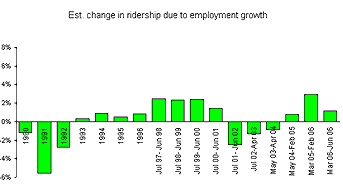 The first chart shows the trend for work trips, estimating employment-related changes in the number of transit riders since 1990. Following the economic cycle, the number of riders declined in the early 1990s and early 2000s and increased in the late 1990s and over the last two years.
The second graph shows the combined effects of changes in non-work trips and fare increases. The graph shows that the number of riders for social, shopping, entertainment and other non-work purposes grew at a surprisingly high rate in the early 1990s, and rose very rapidly when MetroCard fare incentives were introduced in 1998 and 1999. This growth continued into early 2005, offset only by the fare increase in 2003.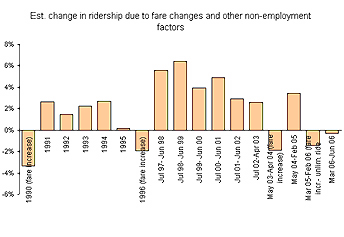 Over the last year and a half, however, the number of non-work trips has inched downward, even after accounting for the effects of the increase in fares for unlimited ride passes in February 2005. The slide continued this spring and early summer, well after the effects of the fare change have worn off.
Why Non-Work Trips Are Decreasing
Why has this happened? In part, the effects of fare incentives, reduced crime and system improvements may have petered out; those people who could be lured to return to what has become a safer, cleaner and more efficient transit system have already done so.
In part, the transit system is now having to deal with the implications of its own success. Overcrowding has replaced crime as riders' daily worry and is a major reason that customer satisfaction for subways and buses, as measured by Metropolitan Transportation Authority (MTA) surveys, is flat or declining.
A third reason for the leveling off of non-work trips is continued problems with service reliability. MTA data show a worsening of on-time performance for both the subway and bus.
What could return transit to its glory days of growth in both work and non-work trips? The next generation of improvements that will attract new riders is most likely information systems that tell customers when the next bus or train will arrive and help transit managers better direct bus and train movements. Unfortunately, long-planned computerized train control systems and bus vehicle location systems are running behind schedule. So too is the joint MTA/New York City study to bring bus rapid transit, which has spurred large gains in places such as Los Angeles. Until these plans come to fruition, transit growth may have to subsist on hopes of attracting more of those trudging to work rather than those going out to relax or be entertained.

Bruce Schaller, who has been in charge of the transportation topic page since its inception in 1999, is head of Schaller Consulting, which provides research and analysis about transportation. He is also a Visiting Scholar at the Rudin Center for Transportation Policy and Management at New York University.
Discuss this Article
Other Related Articles: