Arts
Newsletter
Sign up for our monthly Arts newsletter:


Arts Archive: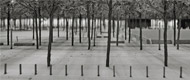 Letting History Speak for Itself
July 15, 2011 — Michael Arad, the designer of the memorial at Ground Zero, discusses the evolution of what he calls the 'built equivalent of a moment of silence. '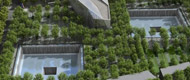 9/11 Memorial Nears Completion, Ending Complicated, Contentious Process
July 14, 2011 — A complicated, often agonizing process will come to fruition soon as a memorial to victims of 9/11 opens on possibly the most complicated – and fraught – construction site on Earth.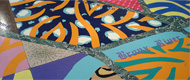 A Tightly Knit and Diverse Arts Scene Grows in the Bronx
April 27, 2011 — The borough's cultural scene has grown dramatically in recent years while managing to remain both diverse and close knit.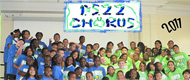 Oscar Chorus Shows What Schools -- and Kids -- Can Do
March 01, 2011 — The P.S. 22 chorus closed out the Oscars Sunday. While most New York kids will never sing with Anne Hathaway, they should all get a chance, an advocate writes, to excel in the arts.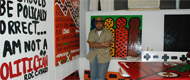 Recession Could Provide Hidden Boost for the Arts
November 23, 2010 — With the real estate market down, some artists and arts groups hope to take advantage of all that empty property. Could this be the recession's silver lining?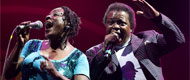 Free Concerts Rocked the City as Controversy Rolled On
September 01, 2010 — This year's free performances brought funding challenges for organizers, angry disputes over noise and even a fight about prison labor. But most New Yorkers just enjoyed the show.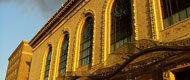 After Delays, An Arts District Grows in Brooklyn
June 05, 2010 — Ambitions for a Brooklyn cultural district have faltered, and key parts of the plan have fallen by the wayside. But six projects remain and are set to open over the next two years.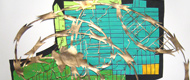 Artists Offer a Visual Dialogue on a Changing Brooklyn
April 02, 2010 — Artists often form the first 'upscale' wave in an area, then find themselves pushed out as richer people move in. In Brooklyn, artists look at gentrification and their role in it.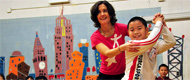 Schools Arts Program Range from Four Star to Nonexistent
February 05, 2010 — Despite some strong programs, arts education in New York City schools must still struggle against the focus on testing and a shortage of funds,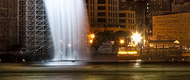 November 01, 2009 — Even in the face of the faltering economy Mayor Michael Bloomberg has taken steps to insure New York's cultural institutions survive and thrive.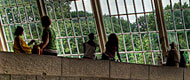 Museums Struggle to Maintain Programs and Projects
October 06, 2009 — Many museums have had to reduce staff and cancel exhibitions during the recession. But increased attendance has provided some welcome good news to offset the financial gloom.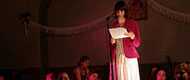 Recession Adds New Meaning to 'Struggling Artist'
July 06, 2009 — As galleries close, nonprofits cut back and even temp work becomes scarce, New York's creative people look for new ways to support themselves and their work.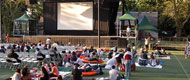 Summer Concerts Plan to Play On
April 22, 2009 — Free outdoor performances are a hallmark of summer in the city -- and so far it seems the recession will not change that.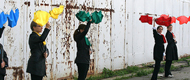 Cultural Groups Wonder Just How Bad Things Will Get
December 17, 2008 — Arts organizations rely on government funds, private contributions, and ticket sales. The current recession threatens all three.
September 12, 2008 — Original plans called for four arts institutions to occupy the World Trade Center site. Now only one remains -- and it faces an uncertain future.
One Person's Vandalism Is Another One's Art
March 25, 2008 — Officials see street art and graffiti as a blight on New York's cityscape landscape. But while the City Council and police continue to wage war on street art, the works themselves have gained increased acceptance.
December 10, 2007 — Now that Broadway is back, skeptics question whether the estimates of the strike's economic impact was overblown. Did the walkout really hurt the city? Is Broadway, for that matter, really crucial to the city's economy?
January 31, 2007 — The mayor's preliminary budget proposes changes to funding for the arts that are making normally glum arts advocates do a little dance.
November 21, 2006 — Artists move in; neighborhood turns expensive; artists are pushed out. Several recent conferences have discussed solutions to the continuing problem, including homeownership for artists.
August 24, 2006 — Even many artists who do not participate in New York's annual fringe festival find themselves living on the fringe, without the basic benefits that come from more traditional employment.
American Idyll (For Foreign Artists)?
May 25, 2006 — "Taylor and Kat and Ace and Mandisa and Bucky knew what it took to become an American Idol," Jonathan Mandell writes. " But for Dusanka and Illana and Valeria and Nao and other foreign artists, the rules for becoming an American – or even just performing in America – can be excruciating."
How To Make It In NYC As An Artist
April 11, 2006 — It is still possible to thrive as an artist in New York City, according to several recent reports, conferences and hearings, as long as artists follow some simple guidelines. (e.g. Never Get Sick)
Proposed Arts Budget, A Destabilizing Déjà Vu Dance
March 09, 2006 — Norma Munn of the New York City Arts Coalition takes a look at the proposed budget for the arts, and concludes "the rhetoric about the value of the arts to the city is not matched by the budget reality."
February 23, 2006 — Jonathan Mandell considers nine ways of looking at what is being called the cartoon crisis, all in New York.
January 31, 2006 — The space problems of artists -– space for living, for working, and for presenting their art -- are "particularly acute," according to a new report and a recent City Council hearing. A look at what is being done, what can be done.
Gifts For The Disabled: Accessibility To The Arts
December 26, 2005 — Many disabled New Yorkers must struggle to get through the day every day, not just during a transit strike -- but they wouldn't have to do without art and culture, if cultural institutions and the entertainment industry made some simple shifts (call them gifts), often at little or not cost.
November 29, 2005 — The promise of a new curriculum and increased support has excited many advocates of arts education, Jonathan Mandell writes, but has not completely won over critics who say that, in the city's public schools, the arts remain undervalued and inadequate.
Is New York The Cultural Capital Of The World?
October 20, 2005 — Is New York the cultural capital of the world, or at least the nation? Read between the lines of several new books, and the answer is no, which is one reason why the City Council is holding hearings.
9/11 And ''Inappropriate Art''
September 09, 2005 — In light of the many harsh words that seem to pair "art" with "inappropriate" whenever discussing September 11th, Jonathan Mandell looks at the current state and uncertain future of the four cultural structures planned for Ground Zero -- the memorial, the memorial museum, the performing arts center, and the cultural building.
Campaign 2005: Long-Term Issues Facing the Arts in NYC
August 17, 2005 — The candidates may be ignoring the arts this year, Jonathan Mandell writes, but there are issues in the arts in which they could make a difference, including funding, arts education, access, using the arts for economic development, and even a possible return of the culture wars
July 19, 2005 — The city's $50.2 billion budget this year includes about $130 million that the Department of Cultural Affairs will give out to hundreds of non-profit arts groups in the five boroughs. Jonathan Mandell attends "a quick Arts Funding 101" to learn who qualifies for funding, what it takes to apply, how the money is distributed, and why not everybody is cheering.
June 23, 2005 — Two new pieces of legislation – an updated state bill about ticket scalping, and a city bill that tries to address movie commercials - take as a given that New York audiences are mistreated, and offer hope that the way things are, is not the way things have to be.
Kindred Spirits: Art And Money
May 24, 2005 — The New York Public Library sells off "Kindred Spirits," a famous New York painting, for Wal-Mart money, and ships it off to Arkansas. A businessman renames a Broadway theater after himself. The New York City Opera turns a fundraiser into a conductor. Jonathan Mandell looks at the "kindred spirits" of art and money, and one reason behind it -- the stagnant arts funding in the city budget.
May 06, 2005 — Jonathan Mandell looks at the more than 200 works of public art created over the past two decades in schools, firehouses, traffic triangles, atop sewage treatment plants, as part of the Percent for Art program. (Check out the slideshow)
April 26, 2005 — Jonathan Mandell looks at several examples of the peculiar relationship between culture and construction in New York City -- recent news about the performing arts center at Ground Zero, a new play about Robert Moses, two exhibitions at the Museum of Modern Art.
Has The Music Scene Died In New York?
December 17, 2004 — "When Bob Dylan moved to New York to make it as a singer-songwriter, he was acknowledging something that he helped define – the city was where pioneering musicians had to be," Sydney Beveridge writes. "But if Dylan were starting out today, would he stay in Minnesota?"
Accountability For Non-Profits
May 05, 2004 — Martha Hostetter looks at the increasing government efforts to make non-profits accountable.
April 01, 2004 — Martha Hostetter explains why, despite tough times, there are two new museums -- the Skyscraper Museum and the Ruben Museum for art from the Himalayas -- and major expansions of established institutions like the Brooklyn Museum of Art and the Morgan Library.
The Arts Community Of St. George -- Hot and Homegrown
March 05, 2004 — Will St. George in Staten Island become the next hot artists' community?
Arts Groups Look to Congress to Ease Cultural Exchanges
February 02, 2004 — Martha Hostetter updates the difficulties facing foreign artists invited to perform here.
Artists' Fight To Sell On The Sidewalk
January 05, 2004 — Martha Hostetter details the fight over artists' right to sell their work on city sidewalks.
Non-Union Tours of Broadway Shows
December 03, 2003 — Martha Hostetter details the forthcoming fight over non-union touring productions of Broadway shows.
The Future of the Philharmonic at Lincoln Center
November 05, 2003 — "The New York Philharmonic's bizarre, near-defection from Lincoln Center to Carnegie Hall created ripples throughout the classical musical world," Martha Hostetter writes, "and may have long-lasting impact on the relationship between the nation's oldest orchestra and the world's largest arts complex."
October 23, 2003 — Setting aside long-held qualms, cash-strapped arts groups are trying to turn their art into a product and themselves into a brand. Martha Hostetter reports.
A National Theater at Ground Zero
September 29, 2003 — Martha Hostetter writes about the effort to create at Ground Zero a new American National Theater. Also: The Howl Festival's ambitious creators.
Lessons from Lincoln Center for the Ground Zero Cultural Center
August 25, 2003 — At the same time that Lincoln Center is "breaking up," the site of the World Trade Center is trying to become a cultural center. Martha Hostetter takes the occasion to ask: What mistakes made by Lincoln Center can the Lower Manhattan Development Corporation avoid?
July 02, 2003 — Martha Hostetter explains how the money earmarked for arts education is being siphoned off to meet basic (non-arts) needs in many schools. This may change as the chancellor tries to create a uniform arts curriculum, overseen by Caroline Kennedy.
A Downtown Cultural District Takes Shape
June 04, 2003 — Martha Hostetter explains efforts to create (in the long run) a downtown cultural district and (this summer) the ArtsVan.
May 02, 2003 — "Because of ancient prejudices and competing priorities, arts funding will always be questioned, no matter how much evidence is found demonstrating its value," writes Martha Hostetter, who details the proposed government cuts to the arts in New York.
April 01, 2003 — As the post-9/11 art of grief has evolved into a wartime art of protest, Martha Hostetter suggests that the arts might also be useful as a form of diplomacy. Also: a return to a blacklist of artists? And an update on last month's four-day musician's strike.
March 04, 2003 — The Arts. Martha Hostetter looks at the issues surrounding the threatened musicians' strike, which would be the first in the city in 28 years.
February 04, 2003 — The current intellectual climate, which seems to eschew distinctions between art and entertainment, "high" and "low," elite and popular, has also resulted in much less real arts criticism in mainstream newspaper in New York. Martha Hostetter details the changes, and introduces some new alternative publications trying to fill in the gaps.
January 01, 2003 — Hostetter
December 02, 2002 — Hostetter
November 01, 2002 — There have been more headaches than usual, Martha Hostetter writes, to secure visas for visiting foreign artists, "which has had a chilling effect on cultural exchange at a time when it is desperately needed." One Tanzanian literally had to sing and dance for his visa – to prove to the U.S. officials that he was a performer.
October 01, 2002 —
September 11, 2002 — Martha Hostetter explains how the arts institutions suffered economically, even while artists helped build community.
The Mostly Mozart Strike: Music, Money and Maybe Better Art
September 01, 2002 — The musicians of Lincoln Center's Mostly Mozart Festival had their own labor day. Martha Hostetter looks at the details of the strike and how it was settled – and why such conflicts may result in better art.
August 01, 2002 — Martha Hostetter looks at the connection between Albany lawmakers and NYC arts and artists.
July 01, 2002 — Martha Hostetter looks at corporate giving to the arts, and whether it is going to decline.
June 01, 2002 —
Culture and the World Trade Center Site
May 01, 2002 — Over the past decade, culture has become a favoredd tool for shaping urban neighborhoods. Will it play a role in the reshaping of the World Trade Center site?
April 01, 2002 — There is much talk in these trying times about artists (and art institutions) collaborating. Martha Hostetter looks at some of the more successful examples.
March 01, 2002 —
February 01, 2002 —
Epic: An Experiment In Arts Education
January 01, 2002 —
December 01, 2001 —
November 01, 2001 —
September 01, 2001 —
June 01, 2001 —
May 01, 2001 —
Indecent: The New Ruckus at the Brooklyn Museum
February 01, 2001 —
The Governor's Proposed Cut in the Budget for the Arts
January 01, 2001 —
Making Art Matter: A Plan to Redesign the Department of Cultural Affairs
December 01, 2000 —
The Arts are Apple Pie in New York, But The Candidates Have Been Silent on Specifics
October 01, 2000 —
Has New York Become the Art of the Impossible for Young Artists?
September 01, 2000 —
Funds for the Arts Go Up, but Remain Unfair
August 01, 2000 —
Art for Politics: The Museum of Modern Art Strike
July 01, 2000 —
Cattle Call: Summer Stampede Set for the Boroughs
June 01, 2000 —
Board of Education Hosts Student Performers
May 01, 2000 —
April 01, 2000 — Zangwill
Darkhorses Win International Competition for TKTS Booth
March 01, 2000 —
January 01, 2000 —
December 01, 1999 —
November 01, 1999 —