Community Development
Newsletter
Sign up for our monthly Community Development newsletter:


Community Development Archive: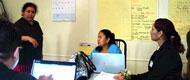 More Low-Wage Workers Become Their Own Bosses
November 17, 2011 — Tired of skimpy wages, some low-income workers have formed their own cooperative businesses. Can this help change New York's s poorer neighborhoods?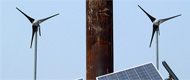 Making a Greener Economy a Fairer Economy
July 07, 2011 — In PlaNYC, the mayor missed a chance to create not only a more environmentally friendly city but a more economically equitable one too, argues this installment of 'Sustainability Watch.'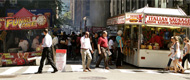 New Street Fair Rules Make Mozzarepas Harder to Find
May 13, 2011 — The city has cut back on street fairs to save money, but critics say this won't address the real problem with Nw York's summer staple: too many tube socks and sausage stands.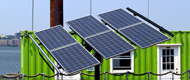 Early Steps -- and Bumps -- on the Road to a Greener City Economy
April 08, 2010 — The Bloomberg administration wants to create jobs that help the environment. Eager entrepreneurs would like that too but say city regulations and high costs could stand in the way.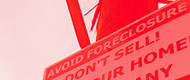 Foreclosures Continue to Threaten Neighborhoods
November 30, 2009 — Long after the sub-prime mortgage crisis wreaked havoc across the country, it has hit parts of New York hard, and despite government efforts, shows no signs of abating.
Closing the Landmarks Loophole
July 29, 2009 — The city's preservation law essentially allows the buildings departments and landmarks commission to ignore -- and even contradict -- one another. Several bills in City Council seek to change that.
June 08, 2009 — Those 59 local groups face funding and staff cuts, but some fear the worst is yet to come. Will Mayor Michael Bloomberg try to restructure or even eliminate the boards?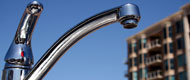 May 13, 2009 — The city's Water Board could increase rates another 14 percent this Friday. But why is our water getting so expensive?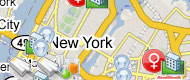 Offering New Businesses a Place to Grow
February 26, 2009 — To help rescue displaced Wall Streeters, Mayor Michael Bloomberg wants to create spaces where entrepreneurs can set up and nurture new businesses. The city already is home to number of such incubators. How do they work and how successful are they?
November 27, 2008 — A Harlem activist group seeks to use the mayor's sustainability plan to improve health and the environment in northern Manhattan
Bringing 'Green Collar' Jobs to the South Bronx
August 19, 2008 — Residents of one of New York's poorest areas would like to see the city work with local groups to promote sustainable neighborhoods, a cleaner environment and "green collar" jobs.
Can Co-ops Help Close the 'Grocery Gap'?
May 20, 2008 — With fresh, healthy food hard to come by in many city neighborhoods, many residents view an old idea-- food co-cops -- as a way to bridge the "grocery gap."
As the Economy Worsens: Helping People Find Jobs
April 22, 2008 — The city's workforce development system has helped meet business' needs and placed thousands of workers in jobs. But it sill does not address the needs of many struggling New Yorkers.
The City Responds to the Foreclosure Crisis
March 07, 2008 — With the number of housing foreclosures in the country having hit an all-time high, a new center here hopes to keep New Yorkers in their homes and change the system that created the current crisis.
November 21, 2007 — As Bedford-Stuyvesant confronts the promise and the peril of being the next hot Brooklyn neighborhood, community groups hope to shape the change that has irrevocably altered so many city communities.
Taking Stock of New York's Housing
October 03, 2007 — Directors of the Furman Center at NYU discuss the latest information on the city's communities and homes.
Bigger Media, Less Local Democracy
February 12, 2007 — "Just as Starbucks knocked out independent coffee shops and Wal-Mart killed the corner store, media conglomerates have devastated locally produced newspapers, television stations, and radio programs throughout the country." A talk with Eric Klinenberg, who explains how this has affected New York.
Tax Breaks For Affordable Housing
December 21, 2006 — Developers in many parts of Manhattan and the Brooklyn would get a property tax exemption only if one fifth of the apartments in a new project are affordable, according to a bill passed by the City Council this month and awaiting the mayor's signature, and approval by the state legislature. The law would also create a fund to finance affordable housing.
New Bills – The 421-a and Affordable Housing Debate
December 18, 2006 —
Business Improvement Districts
October 19, 2006 — There are 55 business improvement districts, or BIDs, in New York City, more than any other municipality in the world. What they promise is a revitalized area at little cost to City Hall. But critics see them differently.
April 07, 2006 — A growing number of community-based organizations for immigrants in New York City are both providing services (such as English classes) and spurring political engagement (such as the recent demonstrations).
Redefining Economic Development
February 24, 2006 — Mark Winston Griffith details the first efforts of a fledgling coalition to create an alternative vision of economic development in New York City, one in which the city's prosperity is shared more broadly.
Community Development Television
November 30, 2005 — Public access television is not all Wayne's World; much of it "furthers community development agendas," writes Mark Winston Griffith, who explains that this access is threatened by pending legislation.
Campaign 2005: Real Estate Boom; Corporate Developments; Immigrant Entrepreneurs.
September 21, 2005 — Community Development. Mark Winston Griffith looks at three issues related to community development that are on the minds of neighbors throughout the city: the real estate boom, large-scale corporate developments; immigrant entrepreneurs.
Block Parties, Street Fairs, Street Festivals
August 26, 2005 — The graffiti block party in Chelsea was different from most of the city's street fairs not just because a federal judge ordered it to proceed but also because "there was not a single sign-up table for a credit card, not one van with slabs of sweaty sausages on its mobile grill, not even tables full of underwear and socks for sale," writes Marcus Banks, who explains why so many street fairs are nearly identical to one another.
Neighborhood Banking Is About To Change
June 21, 2005 — The concept of neighborhood banking is changing, thanks to the tumbling wall between traditional bank branches and check cashing stores. Mark Winston Griffith explains what's going on.
Community Development Funding Cuts Under The New Bush Budget
March 09, 2005 — President Bush has an interesting way of supporting community development: cutting most of its funding.
Evicting The Vendors From The Bed-Stuy Market
January 18, 2005 — The impending eviction of the street vendors from the four-year-old Bedford-Stuyvesant Cooperative Market, while especially senseless, presents some questions with city-wide implications, Mark Winston Griffith writes. For example: Is gentrification the same as community development?
Community Development Under A Kerry Administration
October 26, 2004 — Mark Winston Griffith assesses where presidential candidate John Kerry stands on the neighborhood-based universe of concerns labeled community development '"housing, small business development, job development and social justice policy" and how he differs from Bush.
Opportunity Zones: An Empty OZ
September 28, 2004 — Mark Winston Griffith exposes the little (campaigning) man behind the curtain of OZ, or "Opportunity Zones," the Bush Administration's little-noticed new community development proposal, which are supposed to take up where Enterprise Zones leave off, but don't.
July 14, 2004 — Mark Winston Griffith looks at New York's community-based cooperatives -- not yuppie-owned units of real estate, but businesses owned by their employees or their customers "created to provide a quality, affordable service or product, rather than reap huge profits."
Mobilizing Community Concerns Against Mobile Phone Antennas
May 27, 2004 — Everybody likes their cell phones – there are an impressive 10.5 million wireless phone subscribers in the city. But Mark Winston Griffith looks at the growing community-based movement, which began in Astoria, against the thousands of rooftop antennae that enable these phones to operate.
Public Subsidies Flowing Up the West Side
April 12, 2004 — The proposal to use the profits from Battery Park City to help pay for the Jets Stadium and expansion of the convention center, Brad Lander writes, is just the latest in a 40-year battle that serves as a lesson in how community development and real estate development interact in New York City.
Grassroots Community Organizing Is Malnourished
February 25, 2004 — "In these days of deep philanthropic cutbacks, well-intentioned and well-managed organizations alike are having either to scale back or to shut down," writes Mark Winston Griffith, who was disappointed to learn of the problems facing the Organizing Support Center
Is Washington Looking To Get Out Of Subsidizing Low-Income Housing In NYC?
January 16, 2004 — Is the federal government in effect changing its mind about subsidizing some 20,000 apartments for low-income families in New York City? Brad Lander reports some ominous recent events.
The "Food Justice" Movement: Trying To Break the Food Chains
December 18, 2003 — One of the great, often unspoken, forms of oppression that low- and moderate-income communities suffer through is the lack of access to healthy food. Mark Winston Griffith looks at issues of "food justice."
November 19, 2003 — Letitia James, who succeeds the assassinated James Davis in the City Council, faces a significant challenge in her district: how to deal with "development, development, development." Brad Lander highlights the major projects moving forward in Fort Greene and Clinton Hill, and how to make sure the community benefits.
The Foundation Fundraising Blues
October 07, 2003 — Most philanthropic foundations, Mark Winston Griffith writes, are "highly cloistered, self-perpetuating, elite institutions that seem to answer to no one but themselves."
The Death of the Community Reinvestment Act
August 22, 2003 — Mark Winston Griffith writes the obituary for the Community Reinvestment Act, killed at the age of 26.
July 23, 2003 — Mark Winston Griffith asks why it seems as if the best-funded and highest profile neighborhood-based organizing bodies that operate in black neighborhoods are not black-led. Part of the answer may lie in how the term "community organizing" has been defined.
Trade Union/Public Housing Alliance; Reaction to Rezoning Of Brooklyn Waterfront; New Neighborhood Planning
June 30, 2003 — Brad Lander looks at a productive alliance between trade unions and residents of NYC public housing. Also, the community reaction to the new rezoning plans for the Greenpoint/Williamsburg waterfront has been far more mixed than has been depicted in the commercial press. And: the city's housing agency will soon start focusing more on neighborhood planning.
May 21, 2003 — "All around the city there are neighborhood skirmishes and feelings of deep resentment flaring up between community residents and those who seek to develop facilities that address social needs," writes Mark Winston Griffith, who details proposed state legislation that would require communities to know in advance about such facilities, and looks at the debate it has sparked.
April 29, 2003 — In the debut of Gotham Gazette's new topic page, Community Development, Mark Winston Griffith explains the fear and mistrust by the Fort Greene community of the $700 million plan by the Brooklyn Academy of Music to create a 14-block cultural district in their neighborhood.

To read more about Fort Greene - and to contribute your own news and views, as well as reports of potholes - go to the Fort Greene Gazette, the first of our Community Gazettes.