Crime and Safety
Newsletter
Sign up for our monthly Crime and Safety newsletter:


Crime and Safety Archive: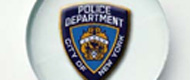 Civillian Board to Prosecute All Police Misconduct Cases
April 04, 2012 — A landmark agreement will allow the Civilian Complaint Review Board to prosecute all confirmed cases of police misconduct. While advocates see it as a step forward, they also have major concerns.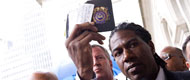 Williams Proposes New Stop and Frisk Controls
March 08, 2012 — Councilman Jumaane Williams introduces legislation designed to reduce the use of racial profiling during NYPD Stop and Frisks.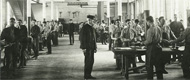 February 27, 2012 — The Cuomo Administration wants to keep New York City's Juvenile offenders close to home to prevent recidivism and encourage rehabilitation.
Controversial Video Sparks Outrage at NYPD
February 01, 2012 — New York Police Department Commissioner Ray Kelly faces calls for increased police oversight after revelations about his participation in an anti-Muslim video that was used to train officers.
City Hall and CCRB Negotiate Over Hiring Freeze
January 26, 2012 — Will City Hall grant an exception to the hiring freeze so that the Civilian Complaint Review Board can hire a lawyer and independently prosecute police misconduct?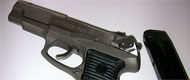 January 25, 2012 — Two familiar firearms were used in the shooting of NYPD Officer Peter Figoski. Chris Opfer takes a look at the guns New York's criminals prefer.
In New York, the Police Police the Police
November 22, 2011 — Forty years after Frank Serpico blew the whistle on police corruption, New York lags behind other major cities when it comes to oversight of its crime-fighting force.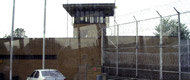 City Plans to Build, Renovate Jails
July 11, 2011 — While Gov. Andrew Cuomo begins an historic effort to shut prisons all over New York state, Mayor Michael Bloomberg is building, reopening and renovating jails throughout the city.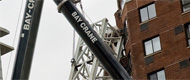 Building a Better Buildings Department
February 23, 2011 — The Department of Buildings had issued 13 violations for this Manhattan site where a 2008 crane collapse killed seven people.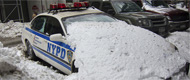 As 911 Modernizes, Bad Weather Trumps Technology
January 10, 2011 — The backlog of 911 calls during the snowstorm and the failure to get help to people in need has refocused attention on efforts to upgrade the city's emergency communications system.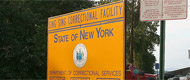 Cuomo Could Shrink the Prison System His Father Built
November 22, 2010 — As governor, Mario Cuomo vastly expanded New York's prison system. Now his son must decide whether to shut jails and take a different approach to criminal justice.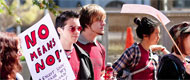 By Talking about Sexual Violence, Grassroots Effort Aims to Prevent It
November 04, 2010 — As rates of rape and other sexual assaults remain high, New York City activists have launched an ambitious effort to prevent these crimes by zeroing in on their root causes.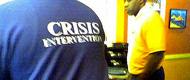 Police Need New Approach to Deal with the Mentaly Ill
April 06, 2010 — Encounters between New York City police and people with mental illness all too often end in injury or even death. An advocate argues the department can -- and should -- change that.
City Emergency Response Team Had Key Skills for Haiti Mission
February 11, 2010 — After the earthquake in Haiti city police and firefighters flew to Port-au-Prince, where they saved six people from the rubble. How was that mission organized and how did it operate?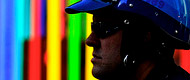 Crime Falls, but Why -- and at What Cost?
October 14, 2009 — Crime has hit new lows under Mayor Michael Bloomberg, but experts wonder if he deserves the credit and some critics charge that new police practices infringe on the rights of New Yorkers.
May 18, 2009 — Despite police crackdowns, guns still wreak havoc in many New York neighborhoods. Will the killings in Binghamton prompt the state and federal governments to enact tighter controls?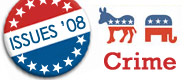 A President's New York Prosecutors
October 24, 2008 — A new administration in Washington could mean new top federal prosecutors in New York City.
Can New York Break Its Incarceration Habit?
June 03, 2008 — Crime is down and so is the number of prisoners. Despite that, New York keeps its prisons open and spending money that could go to improve other parts of the crimnal justice system, such as parole.
The High Price of Counterfeit Goods
March 31, 2008 — While the police have cracked down on counterfeit goods in New York, law enforcement officials and manufacturers must win the hearts and minds of New York's bargain hunting consumers if they hope to stymie this multi-billion dollar industry.
Delving the Murky World of Police Informants
February 20, 2008 — Narcotics detectives in Brooklyn sparked a scandal last year when they paid informants with cocaine, clearly breaking the law. But even when police follow regulations, dealing with informants raises a host of concern.
The Fight Against Street Harassment
January 24, 2008 — For many women walking city streets is akin to running a gauntlet of catcalls, whistles and worse. What can and should be done about the harassment?
December 17, 2007 — A recent report was seen as having cleared the police of racial bias in who they stop on the street. But much has been ignored in the coverage of this volatile issue.
The Fight Against Drunk Driving
November 19, 2007 — New tough laws on drunk driving just went into effect in New York, but advocates say government could more.
October 17, 2007 — Police in New York have essentially ended one of the cherished rituals of being a teenager: hanging out around school.
October 01, 2007 — The state government has approved a new law to end human trafficking but the shadowy business presents unique challenges for law enforcement.
The Move to Expand DNA Testing
May 21, 2007 — Governor Eliot Spitzer's proposal to take DNA samples from anyone convicted of a crime in the state has revived the debate over this powerful tool.
March 26, 2007 — In the wake of the shooting death of two of its officers, great changes may be underway in the way New York City's 4,500-member volunteer police force is trained, deployed, supervised...and protected.
January 25, 2007 — The mayor's announcement of "the most significant restructuring of our juvenile justice system in decades" gets a mixed response from some people who know the system best.
December 05, 2006 — The shooting of Sean Bell on his wedding echoes other shooting of unarmed black men by police. A look at the reactions, the issues raised and what some say should be done to prevent similar tragedies.
November 28, 2006 — The story of New Yorker Elaine Bartlett, released from prison after 16 years, highlights issues surrounding the Rockefeller Drug Laws and the reintegration of ex-prisoners into society.
Bias Murder -- The Death Of Michael Sandy In Context
October 24, 2006 — Twenty years after thousands of people marched to protest a bias killing in Howard Beach, a similar killing of Michael Sandy, a gay African-American New Yorker, has produced no march through Sheepshead Bay. Andy Humm explains what's changed.
Mayor's Summit On Illegal Guns
May 03, 2006 — Part photo op, part strategy session, mayors from fifteen cities met at Gracie Mansion for a summit on illegal guns. "The important question," David Dean writers, "is whether the mayor's coalition-building will do any good."
Budget: More Cops, More Surveillance; Less Crime?
April 03, 2006 — David Dean details a proposed crime budget with the largest city-funded expansion of the police department's uniformed force since 1993, and asks what if anything it will accomplish.
March 03, 2006 — Thanks to several recent scares, David Dean observes, New Yorkers have been reminded that, no matter how much safer we are, there lurks "a palpable anxiety about the threat of terrorism."
The State Of the City's Crimefighting
February 01, 2006 — In his State of the City address, Mayor Michael Bloomberg made a number of concrete proposals to fight crime over the next year.
Cop Killings -- Will The New Laws Do Any Good?
January 03, 2006 — "In the wake of two fatal shootings of New York City police officers in the space of less than two weeks, the New York State Legislature sprang to action so that it could, well, appear to be springing to action," writes David Dean, who asks: Will the laws they passed do any good?
High Profile Crimes Post Election
December 01, 2005 — While crime levels remain down for now, the public perception of public safety can be easily shaped by the kind of high profile cases that have been in the news since the election last month.
Gun Control And The New Federal Law Shielding Gun Manufacturers From Lawsuits
November 01, 2005 — A new federal law shielding gun manufacturers from lawsuits, David Dean writes, "marked a tremendous defeat for New York City" in its strategy for controlling guns.
October 03, 2005 — The debate over the death penalty was revived during Campaign 2005, David Dean points out, "but this time with a different twist."
September 22, 2005 — Do the two changes to the Rockefeller Drug Laws this year -- one enacted this month -- truly reform them? Anthony Papa, formerly imprisoned by these laws, argues that they are not.
Campaign 2005: Crime Declines, Public Safety Worries Continue
August 23, 2005 — While street crime declines, worries about terrorism continue. Jaime Adame looks at the mayoral candidates' positions on such crime issues as the right number of police officers, what to do about hate crimes, and how to prevent another attack.
Youth Justice Board -- Teenagers Studying (Not Committing) Crime
July 28, 2005 — Young people are often blamed for crime. The Youth Justice Board, made up of high school students throughout the city, is trying to do something about it.
June 02, 2005 — When a mentally ill man threw Kendra Webdale into the path of a subway train, her death led to Kendra's Law, which allows for court-ordered treatment of the mentally ill, and which is due to expire at the end of the month. Jaime Adame looks at the debate over whether the law has worked.
May 11, 2005 — With police officers working without a contract for three years, relations between Bloomberg and the unions are heating up.
April 06, 2005 — Why is the crime of abandoning a baby rarely prosecuted? Because, Jaime Adame writes, abandoning an unwanted baby is better than the alternative: If a child isn't harmed, authorities reason that it is better not to treat the mother as a criminal.
Protecting Whistleblowers: The New York City False Claims Act
March 03, 2005 — The New York City False Claims Act, which awaits Mayor Michael Bloomberg's signature (or veto), would protect whistleblowers (make some of them rich) and help clean up the crime of fraud among city agencies and contractors. That's what its supporters say.
February 01, 2005 — Police arrested leaders of a gang that they say terrorized drug dealers by breaking into their homes. But law-abiding citizens can be targets of home-invasion robberies as well.
Rockefeller Drug Law Reform and Drug Courts
January 06, 2005 — Governor Pataki focused on crime in his State of the State address – but left out any mention of the Rockefeller Drug Laws, recently reformed, or of drug courts, which more and more advocates are seeing as an option that offers some tangible answers to a difficult problem.
Battling Gun Violence In The Streets And In The Courts
December 02, 2004 — The battle to stop gun violence is now as much in the courtroom as on the street. Jaime Adame looks at ongoing police strategies, at the new Gun Court, and at gun lawsuits.
November 05, 2004 — More than 300 New York women have been killed by their intimate partner, according to a new study.
October 01, 2004 — Jaime Adame looks at police strip-searches - are they all really necessary?
Police Killed With Their Own Guns
September 16, 2004 — Two police officers were shot and killed this month after a suspect grabbed a gun from one of the officers. Jamie Adame looks at incidents of police being killed with their own weapons - and what can be done to prevent such events.
August 17, 2004 — Jaime Adame details Operation Safe Housing, the new effort to make the city's public housing safer.
July 15, 2004 — Jaime Adame visits a ceremony of the Stolen Lives Project -- New Yorkers killed by the police -- and listens to the sorrow and the anger of family members.
June 02, 2004 — Jaime Adame tells the tale of a couple of police whistleblowers, who, rather than thanked for exposing wrongdoing in the department, say they are being subject to retribution.
May 06, 2004 — Jaime Adame looks at the growing feud between the police and fire departments.
Questioning Police Statistics For Crime and Cases Of Misconduct
April 05, 2004 — Jaime Adame reports on recent criticism questioning police statistics in both crimes and cases of police misconduct.
Aftermath of the Stansbury Killing
March 01, 2004 — Jaime Adame chronicles the continuing reaction, by public officials, community residents, and the police, after a grand jury declined to indict the officer who shot teenager Thomas Stansbury Jr.
Operation Impact And The Shooting Of Timothy Stansbury, Jr.
February 03, 2004 — Jaime Adame looks at Operation Impact I and II and other police initiatives in light of the police shooting of 19-year-old Timothy Stansbury, Jr.
Civil Liberties And Police Surveillance
January 06, 2004 — Jaime Adame looks at changes in police surveillance as a result of federal legislation and court decisions.
December 05, 2003 — Jaime Adame reports on a new program to help inmates after they are released from Rikers Island get help with drug treatment, housing and jobs.
November 03, 2003 — Bank robberies are on the rise in New York. The police commissioner blames the banks themselves.
The Racial Profiling Settlement
October 14, 2003 — Jaime Adame details the wide-ranging consequences when the New York Police Department agreed to settle a federal class-action lawsuit accusing the department of illegal racial profiling when stopping suspects.
July 25, 2003 — In the days since Councilmember James Davis was murdered in City Hall, Julia Vitullo-Martin writes, New Yorkers have struggled to make sense of this homicide.
Blackface Parodists Win In Court; Cops vs. Firefighters; Still No Dancing Allowed
July 07, 2003 — Julia Vitullo-Martin explains why she abhors the federal judge's order to reinstate the police officer and two firefighters who wore blackface and otherwise mocked African Americans in a parade float in Broad Channel. Also: cops and firefighters clash; big nightclub owners defend cabaret laws while protestors denounce them.
Things Go Seriously Wrong: Police Issue Report On Harlem Raid, Lemrick Nelson Gets Off Lightly, Murder Is Up Again. Also: Police Spying
June 02, 2003 — Julia Vitullo-Martin analyzes the 24-page police report of a police raid "that could not have gone more wrong," and that resulted in the death of Alberta Spruill.
Murder and Rape On The Rise; A Look At Nightclub Mayhem
May 07, 2003 — Julia Vitullo-Martin reports that murder and rape are on the rise. Also: a look at the increased mayhem at nightclubs, exacerbated by the ban on smoking.
The 9/11 Killer; The Public Hearings On 9/11; Moynihan On Government Secrecy
April 04, 2003 — Julia Vitullo-Martin considers the public hearings on the 9/11 terrorism attacks, finally taking place 19 months after the fact;  the case of the 9/11 killer; and the late Senator Daniel Patrick Moynihan's prescient comments on the pathology of government secrecy.
The Anti-War Protest And The Police
March 05, 2003 — Julia Vitullo-Martin looks at the issue of police and protests in light of the hubbub over the February 15th anti-war rally, and speculates what may lie ahead. Also: police surveillance; the New York Police Department versus the Immigration and Naturalization Service.
The District Attorney vs. the Police
February 06, 2003 — The Police Department and the Manhattan District Attorney's office are virtually at war over the Central Park jogger case, with each offering its theory of what happened that April night. But the two sides seem largely oblivious of the many failures that both made in investigating the 1989 attack.
January 02, 2003 —
December 04, 2002 — Vitullo-Martin
Old Issues Are New Again: Parole, Central Park Jogger Case, Rape
November 01, 2002 —
October 01, 2002 —
9/11/01-02: Are New Yorkers Any Safer?
September 11, 2002 — Julia Vitullo-Martin attempts to answer the question: Are New Yorkers right to feel as safe in the city as anywhere else in the country?
September 01, 2002 —
Capital Punishment, Parole, And More
August 01, 2002 —
July 01, 2002 —
June 01, 2002 —
May 01, 2002 —
Aiming High-Tech, Ivy Recruitment
April 01, 2002 —
March 01, 2002 —
February 01, 2002 —
Crime Still Declines, But Why, And Will It Continue?
January 01, 2002 —
New And Old Police Commissioner Ray Kelly
December 01, 2001 —
November 01, 2001 —
Making New York Safer, Not Slower and Poorer
October 01, 2001 —
September 01, 2001 —
Jailing Demonstrators. Also: Police-Community Relations
August 01, 2001 —
Police Potpourri: Murder, Drag Racing Down; Mayor's Dander Up; Desk Appearance Tickets Disappear; Council Speaker Swept In A Sweep; Condor Defended
July 01, 2001 —
June 01, 2001 —
Sanctioning Police Malpractice
May 01, 2001 —
April 01, 2001 —
Comissioner Bernard Kerik and the three priorities
March 01, 2001 —
Lessons and Legacy of Amadou Diallo
February 01, 2001 —
December 01, 2000 —
Election Special: Who's Tougher on Crime?
October 01, 2000 —
September 01, 2000 —
National Night Out and Community Policing
August 01, 2000 —
Red Hook Community Justice Center
July 01, 2000 —
NYPD vs. Civil Rights Commission
June 01, 2000 —
May 01, 2000 —
April 01, 2000 —
March 01, 2000 —
January 01, 2000 —
December 01, 1999 —
November 01, 1999 —