Environment
Newsletter
Sign up for our monthly Environment newsletter:


Environment Archive:
Exclusive: Proposed policy would allow industries to self-audit pollution-generating activities
May 24, 2012 — Industries that use pesticides, treat wastewater and store hazardous chemicals could have penalties for breaking pollution laws reduced or waived if they agree to self-report violations under a policy being considered by New York's leading environmental regulator.
Federal Reports Warn of Staff Shortages at DEC
April 27, 2012 — Federal reports warn of staffing shortages at the Department of Environmental Conservation in areas that are "critical to protecting public health."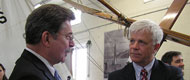 What Do Budget Cuts Mean for the DEC?
March 26, 2012 — Commissioner Joseph Martens once criticized budget cuts to the agency he now runs. Martens answers critics who say the DEC won't be able to effectively protect the environment with current funding levels.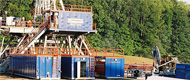 Is the DEC Prepared For Hydraulic Fracturing?
February 07, 2012 — After major budget cuts is the Department of Environmental Conservation capable of overseeing hydraulic fracturing in New York?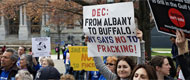 Will Community Bans on Hydrofracking Hold Up?
December 18, 2011 — Communities across the state have passed resolutions to outlaw hydraulic fracturing. Will home rule win out in the legal battles to come?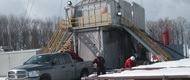 On Fracking, the Cuomo Administration Strikes a Balance
October 07, 2011 — As it seeks to establish a policy on natural gas drilling, the Cuomo administration has struck a sensible balance, an industry executive writes.
On Fracking, the Cuomo Administration Must Slow Down
October 07, 2011 — The administration's rush to approve natural gas drilling raises concerns about whether it will protect New York's land, air and water, an environmentalist writes.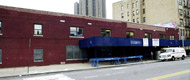 As City Leases Industrial Sites for Schools, Concern About Safety Builds
August 17, 2011 — As the city shuts Bronx New School after finding contamination there, other schools on leased property remain open and could pose a danger to the health of their students and staff.
Food Revolution Prompts Entrepreneurs to Make It in New York
July 28, 2011 — Inspired by the food revolution, city entrepreneurs are creating edible enterprises, replacing departed stalwarts like Stella d'Oro. Julia Vitullo-Martin examines the tasty trend.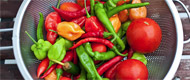 Food Policy Offers Tasty Morsels, Not a Complete Meal
July 25, 2011 — In its latest version, PlanNYC2030 serves up some tasty morsels for those promoting local food policy, but the city still hasn't put together a full meal.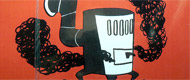 School Boilers Set to Go from Filthy to Not Quite So Filthy
July 21, 2011 — The administration wants to eliminate highly polluting heating oil in private buildings -- but its own schools may have to make do with an interim step.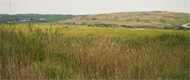 From Garbage Dump to Energy Source
July 05, 2011 — An international art and energy competition focusing on Freshkills could boost efforts to turn the one-time garbage dump into a fuel source and a world-class park.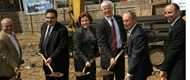 City Brownfield Program Cleans Sites, But Who Benefits?
May 31, 2011 — Under a city program, developers are cleaning up vacant land and building on it. While the projects improve the environment, some do little to serve other needs in their communities.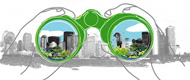 Keeping Watch on the Plan for a Greener New York
May 11, 2011 — With the mayor renewing his plan for a greener New York, Gotham Gazette and Hunter College launch another series of articles about creating a more environmentally friendly city.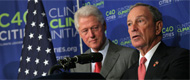 Despite Key Setbacks, Bloomberg Plan Has Made New York Greener
April 18, 2011 — Four years after Mayor Bloomberg announced his plan for a sustainable city, is New York a more environmentally friendly city? Courtney Gross reports on PlaNYC's wins and losses.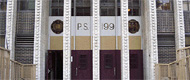 Parents, Officials Seek to Rid Schools of Toxic PCBs -- Now
December 10, 2010 — Toxic PCBs lurk in caulking and light fixtures at dozens of city schools. Parents and some officials want the city to get rid of them now, but cleanup could cost $1 billion.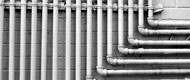 Another Natural Gas Controversy
August 17, 2010 — Forget fracking for now. Another controversy over a natural gas pipeline is steaming in New York City. We take an in-depth look.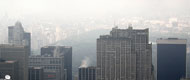 As City's Temperature Rises, Air Quality Falls
August 04, 2010 — Another day of heat, humidity -- and haze. What makes summer air so dirty? And what do those Air Quality Alerts mean anyway?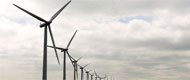 Wind Project Off Rockaway Could Help Power New York's Future
June 24, 2010 — Now that the government has approved a major wind energy project in Nantucket Sound, Rich Kassel says New York should consider a similar undertaking off the Rockaways.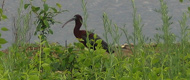 Can the City -- and the Oyster -- Save Jamaica Bay?
May 28, 2010 — For decades, Jamaica Bay's marshes have been vanishing. Now government and advocates have stepped up efforts to stem the destruction -- and a lowly bivalve could play a major role.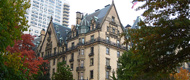 Cleaning New York's Soot-Spewing Buildings
May 03, 2010 — Some of the city's toniest residences belch out particulates that foul the air and contribute to health problems. Rich Kassel explains how to clean up New York's polluting buildings.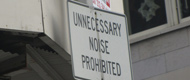 City Turns Deaf Ear to Noisy Neighbors
February 23, 2010 — City laws have muffled jackhammers, bar bands and even Mr. Softee, but, to the distress of sleep-deprived New Yorkers, the code does nothing to silent noisy neighbors.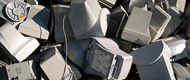 Pioneering E-Waste Bill Remains Stuck in Legal Limbo
February 08, 2010 — n 2008 New York became the first U.S. city to pass a law requiring manufacturers to dispose of old computers and other electronics. So why is the toxic trash continuing to pile up?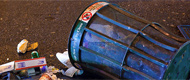 February 03, 2010 — What parts of the city have the filthiest sidewalks and dirtiest streets? To find out, we asked readers to pick New York's nastiest neighborhoods and analyzed the city's cleanliness scorecards.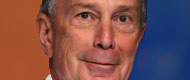 Moving the City Along the Road to Sustainability
October 29, 2009 — The announcement of PlanNYC 2030 in 2007 heralded a new emphasis by the Bloomberg administration on reducing pollution and confronting climate change.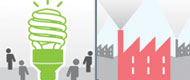 September 28, 2009 — With gadgets guzzling electricity, New York faces a looming energy gap. How would you fix it? Ban air conditioning? Harness the tides? Go nuclear? Play Gotham Gazette latest game and plan our energy future.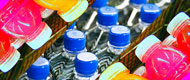 May 26, 2009 — This area of approximately 5.2 square miles includes more than 20 sites the government or residents consider contaminated -- many of them close to apartment buildings and houses. In March, the community learned of further dangers.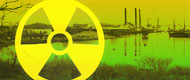 May 26, 2009 — New Yorkers see the smog in the air and garbage on the street. But many of the city's most polluted areas struggle for notice and cleanup. We look at three of them.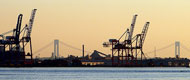 Cleaning Up Pollution at New York's Ports
April 15, 2009 — The solution to reducing pollution from the area's vital shipping industry does not stop at the water's edge.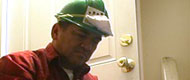 Stimulating a Cleaner Environment
March 09, 2009 — The federal stimulus package provides billions of dollars to help New York State improve its environment and expand the use of alternative energy.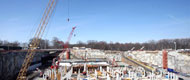 What's Happened to the Plant in the Park
January 26, 2009 — In four years, the cost of building a controversial water filtration plant has tripled. The city defends the deal, while critics maintain they were right all along.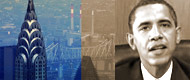 A Changing Climate on Global Warming: What the Election Means
December 01, 2008 — A recent speech by President-elect Obama heralded a major shift in efforts to combat global warming. Rich Kassel looks at some specifics and what they mean for New York.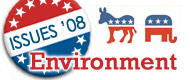 Candidates Offer Different Plans to Cool Climate Change
October 23, 2008 — The economy and national security have drowned out much discussion of climate change in the campaign, but the candidates have staked out positions on climate change that are worth noting.
July 03, 2008 — A series of measures have reduced soot in the city, so much so that the metropolitan area may soon meet federal standards for this type of air pollution for the first time ever. Rich Kassel reports on what's happened -- and what still needs to be done.
A Smoother Ride for Cycling in the City
May 27, 2008 — To mark spring and National Bike Month, Rich Kassel celebrates what the city is doing to promote cycling and looks at what else it could do.
April 29, 2008 — Though the city's new gas mileage standards for its black car fleet is admirable, one advocate argues their entire carbon footprint should be regulated.
New Rules Clean Up Dirty Ships
March 20, 2008 — The cargo ships and ferries we all need still run on dirty diesel engines. But new rules from the federal and city governments are about to change that.
A City by the Sea -- or Under It?
March 10, 2008 — Increased flooding, brought by climate change, could threaten some of New York's biggest development projects. What is being done so all the new construction can survive the warmer, wetter future?
Next Steps for Congestion Pricing
January 23, 2008 — The congestion pricing panel's interim report offered five options for cutting traffic in the city. Rich Kassel looks at the various ideas and what effect they might have.
Is 'Nalgene' Hazardous to Your Health?
December 21, 2007 — Just when you thought pouring New York City tap water into a Nalgene bottle was the safe, eco-friendly thing to do, along come reports that Nalgene can be hazardous to your health.
Breathing Easier in 2030 and Beyond
November 20, 2007 — The mayor's plan for New York's future promises to give us the best air of any big city in the country? Can we do that – and how?
October 22, 2007 — The chronic lung condition sends far fewer kids to city hospitals now than 10 years ago, but no one seems to have noticed.
How Clean (or Dirty) Is Our Air?
September 21, 2007 — Mayor Michael Bloomberg has promised to make New York the "cleanest big city in America", so how does New York City's air measure up now?
Latest Round in the Garbage Wars
June 18, 2007 — Opposition to a recycling facility in Manhattan threatens to derail the city's solid waste plan. Is it NIMBY or not?
May 01, 2007 — A new apartment complex in the Bronx aims to prove that housing can be both friendly to the environment and the pocketbook.
December 20, 2006 — Buying a better refrigerator not only saves money; it helps save the world. The government of the City of New York has been doing its part to promote energy efficiency in several ways. New York City shoppers can as well.
August 31, 2006 — By many measures, noise (especially from nightclubs and car alarms) has become New Yorkers' biggest concern.
Off the Farm and Into the Faucet
June 28, 2006 — A program to help upstate farmers protect their land helps keep New York City drinking water clean – and could save billions in filtration costs.
May 31, 2006 — Fledgling efforts to collect rainfall save water, reduce pollution – and could change the way we think about our most precious natural resource.
Green Is Gold (Though Not Yet In NYC)
April 13, 2006 — Those attending an event known as the Green Trading Summit in midtown this month had two unshakeable convictions, one backed by science, the other by finance: Global warming is doing damage to the environment, and efforts to reduce its severity have proven lucrative; green, they say, is gold -- everywhere (so far) but here.
March 08, 2006 — With the announcement that the Statue of Liberty will soon be powered entirely by windmills, Sam Williams looks at other local efforts – past, present and future -- to use wind power
February 09, 2006 — Sam Williams details renewed activity – including a Brockovich-style class-action lawsuit – over a 30-year-old oil spill in Greenpoint, Brooklyn, bigger than the one caused by the Exxon Valdez, but still only halfway cleaned up.
Online Shopping And Its Impact On The Environment
January 18, 2006 — For New Yorkers, shopping online means less travel time and, on occasion, lower costs. It also means more trash to put out at the curbside. Because most online retailers rely on major private carriers such as UPS and FedEx to deliver their goods, this holiday season saw not only a sharp rise in local deliveries but a similar rise in the amount of paper, cardboard and plastic pushed into the city waste stream.
Bio-diesel -- petroleum with...vegetable oil
December 14, 2005 — Sam Williams looks at bio-diesel, which mixes petroleum with ordinary vegetable oil for a cleaner, more efficient -- but not perfect -- way of heating homes and powering automobiles.
October 28, 2005 — A movement is growing to replace New York City's iconic "tar beach" rooftops with something cooler, literally -- and maybe something greener.
Wetland Restoration in Jamaica Bay: Will Katrina Threaten Its Funding?
September 23, 2005 — Sam Williams explores whether the massive federal commitment to rebuild the Gulf Coast in the wake of Hurricane Katrina will come at the expense of present or future projects in New York, such as the U.S. Army Corps of Engineers' planned restoration of Jamaica Bay wetlands.
Campaign 2005: The Mayoral Candidates' Views On Air and Water Quality, Solid Waste, and Sustainability
August 22, 2005 — A review of the top candidates' environmental agendas show four main areas where differences in opinion or variations in enthusiasm stand to shape mayoral priorities over the next four years: water and air quality, solid waste, and "sustainability" (energy-efficienr "green" buildings).
July 20, 2005 — Sam Williams details the pros and cons of the hybrid taxicabs and buses and city fleet – half electric, half gas – about to fill New York City's streets
June 27, 2005 — Many New Yorkers don't know which of our garbage we are supposed to recycle (aerosol cans? wire hangers? shampoo bottles?) -- and city officials disagree over how much of it we can.
Putting A Price On Street Trees
May 03, 2005 — How many trees are there on New York City streets? Guess right and win a thousand dollars. When officials count for real this summer, writes Sam Williams, they plan to learn not just how many there are, but how much each is worth.
Taking on Carbon Dioxide In Defiance Of Bush; Also, Tracking Detectors For Carbon Monoxide
April 01, 2005 — The city, along with half a dozen other governments, is taking on carbon dioxide (global warming), in virtual defiance of the Bush administration. Also: tracking the use of detectors for the "silent killer," carbon monoxide.
Indicting To Clean Up Newton Creek; Also, Diesel Deaths
March 04, 2005 — The watchdog group Riverkeeper found a way to clean up Newton Creek -- by suing, then encouraging the DA to indict, a major polluter. Also, a new report determines that more New Yorkers die each year from diesel exhaust than second-hand smoke.
Pataki Turns Green; Tsunami Speculation
January 27, 2005 — Pataki's budget boosts some environmental initiatives. Also: Could a tsunami happen here?
Saving Two Birds; Saving Staten Island
December 21, 2004 — Is environmentalism a religion? Sam Williams ponders the efforts to save two birds on Fifth Avenue -- and the open space on Staten Island.
November 11, 2004 — How one man saved the last remaining glacier lake in Queens.
The New Garbage Plan; New Worries About Flooding
October 12, 2004 — Sam Williams writes about a would-be disaster (flooding), and about the (small) steps being taken to handle a current one (garbage).
September 10, 2004 — New Yorkers throw away more food than people elsewhere in the nation, but, Sam Williams writes, food doesn't have to be wasted - it can be recycled. 
Urban Forestry's New York City Roots
August 06, 2004 — "Urban Foresters" believe that the Amazon rainforest is not the only kind of habitat deserving of study and protection. Sam Williams takes a hike with some in Inwood Park.
July 09, 2004 — "In a city with few environmental success stories, the improving state of local beaches is worth celebrating, if not too loudly," writes Sam Williams, who looks at both government and volunteer efforts, including the six-year-old beach monitor program.
June 09, 2004 — "Given the united political disdain Staten Islanders once reserved for the Fresh Kills Landfill , you would think there might be a similar, collective antipathy for litter, blight, and illegal dumping," writes Sam Williams, who explains how there isn't.
Dreaming Of A Jets Stadium (And Junkyard Cleanup) In Queens
May 12, 2004 — Sam Williams details a "long shot" plan to build the new Jets Stadium in Queens rather than the West Side of Manhattan, and thereby help clean up the long-toxic Willets Point – the site of one of Robert Moses' rare defeats.
April 09, 2004 — A look at the return of both glass recycling and once-a-week collection of residential recyclable material.
March 11, 2004 — The Army Corps of Engineers is finally going to try to do something to bring Jamaica Bay back to a semblance of its original state. Not everybody is delighted.
February 12, 2004 — The New York Organic Fertilizer Company in the Bronx, which turns the city's sewage into fertilizer for farmers, stinks, in more ways than one.
January 13, 2004 — Critics say that a proposed change in policy by the Bush administration would roll back advances made toward cleaning the air in New York.
Carbon Monoxide, The Silent Killer
December 11, 2003 — The grisly suffocation death of a family in the Bronx has brought attention to what should be on the A-list of feared chemicals - carbon monoxide. Sam Williams explains why, and what can be done.
Stopping The Truckers From Idling At Hunts Point
November 12, 2003 — Sam Williams looks at the fight to get the out-of-state truckers at Hunts Point to stop idling, and polluting the community.
Siting The Power Plant at Newtown Creek
October 27, 2003 — Sam Williams details the plan to switch the new 1,200 megawatt TransGas Energy power plant from the Williamsburg-Greenpoint waterfront to an already polluted Newtown Creek.
The Alarming Report About The EPA's Response To 9/11
September 11, 2003 — A recent report alleged that the White House conspired to downplay the environmental impact of 9/11, which was the "worst single-day environmental catastrophe to befall the city," writes Sam Williams. And the rest of the report offers even more alarming revelations.
Environmental Impact of Rebuilding Lower Manhattan
August 15, 2003 — Eric Goldstein reports on the concerns expressed by environmental and civic groups about the effects on the environment of the redevelopment of the World Trade Center site.
July 18, 2003 — Advocates for recycling were cheered when Mayor Michael Bloomberg announced he would resume the recycling of materials – plastic, glass, yard waste, Christmas trees -- that he had suspended 18 months ago. "In questioning both the financial and environmental merits of civic recycling," Sam Williams writes, "Mayor Bloomberg had in effect challenged the entire industry."
Suburban Sprawl, City Troubles
June 16, 2003 — Bulldozers in the suburbs represent a direct threat to the future of New York City, says Eric Goldstein.
May 12, 2003 — Eric Goldstein calls on the city's health commissioner to pay more attention to the issue of lead poisoning of children, which a report has called "the most significant environmental disease in New York City," by supporting the passage of a law that has been tied up in the City Council for more than a year.
April 11, 2003 — One year after Mayor Michael Bloomberg's surprise proposal to eliminate the household recycling of metals, glass and plastics, the city's recycling program refuses to surrender, writes Eric Goldstein, who sorts out what exactly the recycling program is now, and what it might be in the future.
The City's New Spending Plan For The Environment
March 13, 2003 — Eric Goldstein outlines the Department of Environmental Protection's proposed new, $16.5 billion ten-year spending plan, which would focus on efforts to insure "clean, safe and sufficient" drinking water - and try to shift from sewage treatment.
New Plan to Safeguard New York's Water Supply
February 17, 2003 — Development, not terrorism, represents the biggest threat to New York City's water supply. Now environmentalists and other activists have proposed an ambitious plan to protect one of the city's most valuable assets.
January 10, 2003 — Eric Goldstein predicts what he sees as the major environmental battles in 2003, including the rebuilding of the World Trade Center site, recycling, Superfund legislation, and lead paint.
December 12, 2002 —
The Elections and New York's Environment
November 01, 2002 — "The increasingly visible use of the environment as a 2002 campaign theme in the New York region tells us something about the candidates who sponsored these messages and the voters who responded to them," writes Eric Goldstein, who assesses the track record and promises of the winning candidates.
April 01, 2001 —
January 01, 2001 —