Land Use
Newsletter
Sign up for our monthly Land Use newsletter:


Land Use Archive: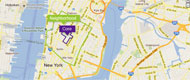 March 28, 2012 — The NYU expansion in Greenwich Village remains the most controversial and criticized of the big university expansions in recent years, overshadowing even Columbia's Manhattanville project.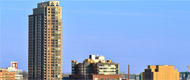 Mayor Still Looks to Building and Zoning to Ease Housing Crunch
July 18, 2011 — With housing here reeling from the bubble and the bust, the mayor sees zoning as the key tool for creating affordable homes. Tom Angotti examines the city's latest plan.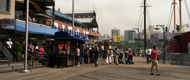 South Street Seaport Goes Back to the Drawing Board
June 07, 2011 — After more than 40 years of missteps, area aorund South Street girds itself for yet another effort to develop one of New York's oldest neighborhoods.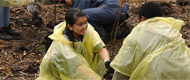 Participatory Planning: The Sustainability Plan's Missing Piece
May 11, 2011 — PlanNYC offers some outstanding proposals, but unfortunately it didn't involve the public very much in creating them.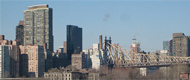 On the Waterfront Plan: Real Estate Dreams and Future Conflicts
January 24, 2011 — The city's plan for its shoreline has more to do with business development than recreation or nature, writes Tom Angotti. He examines what the blueprint does -- and doesn't do.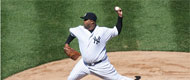 The Real Power in City Planning
October 04, 2010 — It keeps a low profile, but from Yankee Stadium to Coney Island, the Economic Development Corp,, has put together most of New York's biggest and most controversial projects.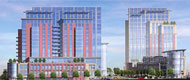 Charting a Better Way for Planning and Community Boards
July 06, 2010 — With the City Charter under review, Tom Angotti argues it has helped create a land use process often seen as a rubber stamp. He offers ideas to put some teeth in the process.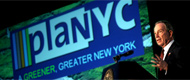 PlaNYC at Three: Time to Include the Neighborhoods
April 12, 2010 — With the mayor's blueprint for a more environmentally friendly New York at a crossroads, Tom Angotti urges the city to make the plan stronger by going back to the grassroots.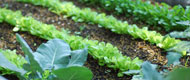 Food Deserts Could Bloom if City Hall Helps
January 28, 2010 — Corn from Corona? Canarsie cantaloupe? Tottenville tomatoes? City grown produce, along with public markets and better bodegas, could help New Yorkers eat better -- with a boost from City Hall.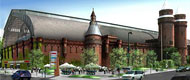 Kingsbridge Armory and the Dance Around ULURP
November 10, 2009 — The controversy over the Kingsbridge Armory features the living wage, a suburban-style mall in the city, community concerns -- and the city's land use process.  Tom Angotti explains the fancy footwork.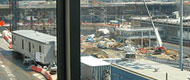 As Trade Center Plans Falter, City Could Have a Sense of Deja Vu
July 22, 2009 — As the main players in the redevelopment of the World Trade site seem locked in a never-ending drama, Tom Angotti cautions that New Yorkers face the possibility that what is eventually built at Ground Zero will echo the worst attributes of the old trade center.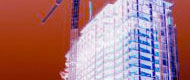 February 23, 2009 — The economy deserves most of the blame for all those empty apartments around town. But did the city contribute to the problem? And can it do anything to fix it?
The McCain-Obama Mismatch on Urban Policy
October 20, 2008 — Barack Obama has an urban policy that extends beyond cities to entire metropolitan regions, while his opponent, John McCain, has largely ignored the issue.
Rebuilding Ground Zero: Long-term Costs of Short-term Planning
September 10, 2008 — The haste to develop Ground Zero after 9/11 has led to delays, mistakes and missed opportunities. Tom Angotti looks back at a flawed process.
Climate Change Could Threaten a Green Willets Point
August 14, 2008 — Over the objections of many in the community, the Bloomberg administration plans to build the city's first green neighborhood at Willets Points. But climate change could wash it all away.
Can Planners Help New Yorkers Eat Better?
June 12, 2008 — As supermarkets shut down, millions of New Yorkers no longer have ready access to affordable, healthy food. Tom Angotti looks at tools for bringing good food to all neighborhoods.
The Race to Develop a Toxic Waterway
February 19, 2008 — Real estate investors are rushing to the shores of the Gowanus Canal, one of the city's most polluted waterways. Can this development save an area known largely for its stench and contamination, or will all the new construction make things even worse?
Setting Standards for Green Neighborhoods
January 09, 2008 — Efforts to encourage a more environmentally friendly city have gone beyond individual buildings to setting standards for entire neighborhoods. Is this a marketing play by developers or a genuine effort to create sustainable communities?
December 11, 2007 — Looking back on Daniel Doctoroff's six year as deputy mayor, Tom Angotti finds Doctoroff was no Robert Moses but that he did have a major effect on development and planning in New York -- for better or worse.
November 13, 2007 — Hundreds of school playgrounds remain off limits after school lets out. The administration wants to make them community parks, but will they be green oases or worn patches of artificial turf?
Burial Ground Bears Witness to a Segregated City
October 12, 2007 — The opening of the African Burial Ground Memorial serves as a reminder of residential segregation and displacement in New York.
September 19, 2007 — Despite its honky-tonk image, Coney Island could become a model of sustainable development -- if the city takes an active role.
The New Battle Against Gentrification
August 24, 2007 — Across the city groups are fighting to preserve diversity, character and history – one neighborhood at a time.
Albee Square: When the Mall's No Longer Home
July 20, 2007 — One more piece of downtown Brooklyn, this time the 1980s hip-hop hangout of Albee Square, seems poised to become yet another luxury condo and retail development.
Atlantic Yards and the Sustainability Test
June 05, 2007 — The developer of the Atlantic Yards megaproject in Brooklyn promise is will be environmentally friendly. But does it truly pass the sustainability test?
A Sustainability Test at Willets Point
May 09, 2007 — The mayor's plan for Willets Point, the Iron Triangle of Queens, raises questions about the city's vision of sustainable development.
Sunnyside Fights Over What to Preserve
April 11, 2007 — A dispute over whether to make part of Sunnyside a historic district is partly an argument over what in the area deserves to be protected.
Atlantic Yards: A "Done Deal?"
March 06, 2007 — Is Atlantic Yards inevitable? A new movie, Brooklyn Matters, "uncovers a deepening vein of displeasure with the project that spans a wide political spectrum," writes Tom Angotti, who explains how, and why.
February 06, 2007 — The mayor has announced plans for a unique planning effort for a more populated New York of 2030. But, Tom Angotti asks, is the plan itself sustainable beyond 2008, when voters will elect a new mayor?
Congestion Pricing: An Incomplete Solution
December 07, 2006 — Tom Angotti argues that what is missing in New York City isn't just congestion pricing – charging drivers for entering the most traffic-clogged parts of the city -- but long-term planning for traffic reduction
Obesity, Asthma, and Public Health: What Can Planners Do?
November 08, 2006 — Tom Angotti explores how urban planning – better building codes and zoning codes -- could create a healthier environment. For example: "the Zoning Resolution restricts the location of sex shops in the city, so it could also limit the location of fast food outlets, keeping them away from schools."
Long-Term Planning At City Hall
October 12, 2006 — With the creation of a new Office of Long-Term Planning and Sustainability, and a report envisioning a New York in 2030 with 400,000 new apartments, City Hall has an ambitious agenda for future growth, says Tom Angotti.
September 05, 2006 — It has now become an "accepted norm throughout the city" Tom Angotti writes, to create "inclusionary zoning," which allows real estate developers to construct bigger buildings in exchange for allocating a portion of them to people with modest incomes.
City's New Waste Plan and the Neighborhoods
July 25, 2006 — Tom Angotti takes a look at the newly passed solid waste management plan, which in many ways follows a plan generated by neighborhood groups.
Zoning Versus Planning in Manhattanville
June 23, 2006 — Community residents and Columbia students opposed to the university's massive expansion plans have their own proposals for the neighborhood.
May 02, 2006 — Tom Angotti looks at the legacy of Jane Jacobs, "one of the greatest advocates of New York City's urbanism" who died last month at the age of 89.
April 10, 2006 — Tom Angotti argues against the city's plan for a "multi-billion dollar project" at Willets Point, Queens, in the shadow of Shea Stadium, saying that the proposal would destroy "the kind of bustling business district that economic development experts across the country keep trying to re-create."
Livable Streets (For People, Not Cars)
February 21, 2006 — Tom Angotti explains a new campaign to make the city's streets and cities more "livable," by focusing on the needs of pedestrians and bicycles, rather than cars.
January 19, 2006 — Tom Angotti (an old Dodgers fan) puts aside his Yankees-bashing and judges the proposed new Yankees stadium in terms of "21st century New York and its needs."
Bronx Terminal Market And The Subverting Of The Land Use Review Process
December 13, 2005 — If the City Planning Commission approves the conversion of the Bronx Terminal Market into a huge shopping mall and the eviction of its 23 ethnically diverse merchants, as it is expected to do this month, it will be the latest example, Tom Angotti argues, of City Hall's undermining of the land use review process.
Atlantic Yards: Through The Looking Glass
November 15, 2005 — In the Looking-Glass World of the proposed Atlantic Yards development in Brooklyn, Tom Angotti argues, everything has been done backwards – with planning coming last.
Overdevelopment: Planning, Not Rezoning, Is The Answer
October 18, 2005 — With neighborhoods throughout the city complaining of "overdevelopment" and pushing to change zoning in order "to preserve neighborhood character," Tom Angotti argues that the solution is not rezoning but community-based planning.
9/11: Will The Lessons Learned Help New Orleans?
September 12, 2005 — Tom Angotti looks at five major lessons in planning learned from September 11th, and whether they can be applied to the rebuilding of New Orleans
Campaign 2005: Mayoral Candidates' Plans On Planning
August 16, 2005 — The mayoral candidates still seem to see zoning and planning as coming from the top, rather than from communities, argues Tom Angotti, but, he says, there are distinctions in their approaches, with Bloomberg focusing on up-zoning and down-zoning and Ferrer on mandatory inclusionary zoning.
Eminent Domain: What The Supreme Court Ruling Means To NYC
July 12, 2005 — Brad Lander looks at the Supreme Court's recent decision on eminent domain and explains what it means for New York City, including the proposed Nets Arena in Brooklyn, Columbia University's new campus, and the new headquarters of the New York Times.
NASCAR, The Largest Proposed NYC Sports Stadium Of All
June 14, 2005 — Even if the West Stadium had triumphed, it would not have been the largest new sports stadium in New York. That accolade – or curse – is reserved for the ''noise and speed and glory and death'' that is the proposed NASCAR racetrack on Staten Island. Brad Lander explains
Zoning Instead of Planning in Williamsburg and Greenpoint
May 17, 2005 — The massive rezoning of Greenpoint and Williamsburg that the City Council just approved," Tom Angotti writes "bears little resemblance to the community plans" that came out of hundreds of meetings over more than a decade.
The Anti-Moses And The First Community-Based Plan
April 21, 2005 — Tom Angotti details the life and work of Walter Thabit – "New York's anti-Moses" -- as a compelling antidote to all the recent big-project hoopla.
March 17, 2005 — A BJs in the Bronx and a Wal-Mart in Queens were killed; the Jets in Manhattan and the Nets in Brooklyn are facing new roadblocks. But even if these big projects are having trouble, Tom Angotti argues, the city's zoning rules mean new ones will take their place.
February 15, 2005 — The promise of New York City's first Wal-Mart superstore has provoked intense opposition and, Tom Angotti writes, revealed how poorly equipped city government is in dealing with such big box projects.
Summit Calls For Community Planning Reform
December 14, 2004 — The planners and community people who attended the Summit on Community-based Planning in New York City, Tom Angotti says, heard from mayors who are doing community planning the right way – unlike New York.
The Filtration Plant Deal in the Bronx: Flawed Planning, Environmental Injustice
November 15, 2004 — The $243 million "payoff" for Bronx parks to gain public acceptance for a water filtration plant, "is deeply flawed as public policy," argues Tom Angotti.
Rezoning Proposals Squeeze Out Affordable Housing From Both Ends
October 07, 2004 — Two proposed changes to the zoning code, Tom Angotti argues, have the effect of squeezing out the possibility of affordable housing from both ends.
The Governors Island Plan: Last Chance to Get It Right?
September 20, 2004 — Tom Angotti attends a planning meeting for Governors Island, leaving him to wonder: In what could be the city's last chance to get planning right for a major chunk of city land accessible to the entire metropolitan region, will the city finally get it right?
Rethinking Environmental Impact Statements
July 20, 2004 — Three decades after federal, state and city law started requiring "environmental impact statements" for proposed major new construction projects, Tom Angotti writes, many people now realize that environmental review is not working as well as it should. "It is time to review environmental review."
Ikea And Red Hook's Racial Divide
June 15, 2004 — On the surface, Ikea's proposal to build a new superstore in Red Hook looks pretty good, at least compared to the plans of other developers. But, writes Tom Angotti, "before giving any civic awards to Ikea, consider what they're NOT doing."
May 19, 2004 — Neighborhoods, not just schools, remain deeply segregated in New York City. Tom Angotti argues that the city's policies may be responsible in some measure for this segregation and the inequalities that go along with it.
The Nets Arena Is Not The Real Issue In Development Of Downtown Brooklyn
April 22, 2004 — In the argument over the proposed changes in downtown Brooklyn, Tom Angotti charges, the public's eye has been forced onto the proposed basketball arena, when there are more fundamental issues at stake.
Long Commutes and Lost Opportunities for Planning
March 17, 2004 — Why does the city with the largest mass transit system in the country have the longest commutes? Tom Angotti offers a few answers – and lost opportunities for planning.
Waterfront 'Access' May Actually Keep Public Out
February 18, 2004 — The city's plans to provide access to the waterfront, argues Tom Angotti, will do the exact opposite.
The Plans For Downtown Brooklyn Ignore Both People And Public Spaces
January 19, 2004 — City officials who back the creation of more than 60 million square feet of new office space in NYC "are acting more like cheerleaders for local real estate than custodians of the quality of life in our neighborhoods," writes Tom Angotti, who looks in particular at the new rezoning plan for downtown Brooklyn.
December 16, 2003 — New York City's 12,000 miles of sidewalks, Tom Angotti writes, "are its best public spaces," but the city has no overall policy or plan for their use and enjoyment. He offers one of his own.
The West Side Stadium: No Arena for Good Planning
November 20, 2003 — "The fixation with putting a football stadium on the west side of Manhattan," Tom Angotti writes, "is blocking good planning – for the Olympics and for the neighborhood."
Variances: How To Undermine Zoning and Make a Profit
October 22, 2003 — Tom Angotti explains the way variances in the zoning law, bestowed by a little-known city agency, undermines the whole concept of zoning and planning while allowing private developers to pursue a greater profit.
Noise Pollution: A City Planning Problem
September 19, 2003 — If the city really wants to reduce the noise afflicting neighborhoods, they'll have to do a lot more than a ticket blitz, writes Tom Angotti, who makes some suggestions for a sustainable, long-term strategy.
The Lesson Of The Blackout Is NOT More Power Plants
August 26, 2003 — Tom Angotti argues against using the blackout to push for more power plants, such as one on the waterfront in Williamsburg.
Greenpoint/Williamsburg Zoning Changes
July 28, 2003 — Tom Angotti looks at the recent proposal to rezone large sections of Greenpoint and Williamsburg in Brooklyn, and asks: Is zoning the right tool at this time to make the necessary changes to these waterfront neighborhoods, or will it make things worse.
"As-of-Right" Development: An Invitation to Ethical Breaches?
June 19, 2003 — Tom Angotti asks whether a recent private project to build a store, movie theater and parking facilities in Brooklyn's King Plaza Shopping Center illustrates how the city is encouraged by current procedures to "ignore or evade community input and become too cozy with developers."
Zoning To Kill Manufacturing, and the Assault on Greenpoint
May 22, 2003 — Tom Angotti says that the New York City Department of City Planning's new plan to rezone large areas of industrial land to promote housing may be bringing the city to "the brink of what could be a great urban planning disaster." He focuses in particular on possible disastrous consequences for the Brooklyn neighborhood of Greenpoint.
Zoning To Protect Manufacturing
April 22, 2003 — Adam Friedman of the New York Industrial Retention Network argues why the city should use zoning to protect manufacturing.
New York City's Big Planning Projects: Avoiding the Public?
March 19, 2003 — "Some of the most important decisions about the future of the city are being made behind closed doors," writes Tom Angotti, who says that many of the exciting new plans for the city intend to bypass the normal process set up to allow for the public to participate.
Midtown West Side Story: A Conversation With Robert Moses
February 26, 2003 — Tom Angotti imagines what long-dead and long-reviled master builder Robert Moses would say about the city's current plan for "Midtown West," which would "basically bring an end to Hells Kitchen, the neighborhood where West Side Story took place, where generations of immigrants lived, where tens of thousands of New Yorkers still make their home."
Lots Of New Plans; Any New Visions?
January 21, 2003 — More people are engaging in more long-range planning for the future of New York City -- plans for housing, for Ground Zero, for solid waste, for the Olympics, etc. -- than at any time since before the fiscal crisis of the 1970's. Tom Angotti wonders whether the vision behind many of these plans is too limited.
December 17, 2002 —
November 07, 2002 —
October 10, 2002 —
September 11, 2002 —
September 05, 2002 —
Why Zoning Reform IS Important
January 01, 2001 —