Transportation
Newsletter
Sign up for our monthly Transportation newsletter:


Transportation Archive: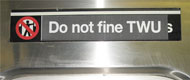 New MTA Chair Faces First Test in Labor Relations
December 07, 2011 — Will the new chair of the Metropolitan Transportation Authority be able to overcome the divide with transit workers union?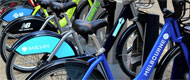 Making Bikes a Part of the Neighborhood
October 25, 2011 — Months from the start of a major bike share program Tom Angotti says the city needs to be ready to work with neighborhoods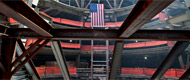 After Delays, Fulton Street Transit Hub Takes Shape
September 07, 2011 — After delays and cost overruns that threatened to all but destroy the project, parts of the Lower Manhattan transit hub have started to open.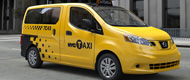 Taxi Choice Not the People's Choice
May 04, 2011 — In selecting a Nissan vehicle as the taxi of tomorrow, did the city reject the people's choice?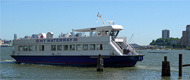 City Again Tries to Get New Yorkers to Board Ferries
February 28, 2011 — A new ferry service slated to launch this spring will mark the latest in a long line of attempts to get New Yorkers to commute on the water, rather than under or over it.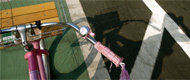 Push for Bike Lanes Hits Some Bumps
February 25, 2011 — As the administration seeks to make it easier for New Yorkers to bike around town, it faces a backlash from critics who want to slow down the cycling program -- and the cyclists.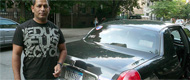 Mayor to Propose Classier Black Cabs with Pick-Up Privileges
January 19, 2011 — Black cab or yellow cab? Metered fare or flat rate? The Bloomberg administration plans to bridge the taxi gap and establish a new system for car services in the outer boroughs.
Cuomo No-Tax Pledge Could Bring More Transit Cuts
December 07, 2010 — Andrew Cuomo has not said what he might do about the budget woes facing the MTA. Could congestion pricing rise again? One in our series on issues confronting the new governor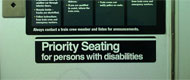 Much of Transit System Remains 'Out of Service' for the Disabled
November 12, 2010 — Despite 20 years of the Americans with Disabilities Act, much of New York's mass transit system remains out of reach for people in wheelchairs and others with physical handicaps.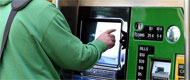 MTA Moves Toward a 'Smart' Way to Pay Fares
September 22, 2010 — The MTA hopes technology can liberate New Yorkers from balky turnstiles and vending machines. What does the agency have in mind and what will it mean for straphangers?
The City's New Dollar Menu for Bus Riders
August 11, 2010 — The administration thinks expanding dollar vans in the outer boroughs will ease the sting of service reductions. Critics say it's privatizing public transportation.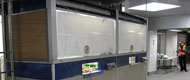 Closing of Subway Booths Raises Safety Concerns
July 02, 2010 — The cash-strapped agency's efforts to shut token booths and lay off workers remains in the courts, caught up in confusion. Meanwhile riders worry about their safety.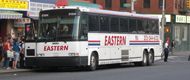 For Budget Buses, Chinatown's Clogged Streets Are Wide Open
May 12, 2010 — Cheap Chinatown buses delight budget travelers. But with few rules controlling them, the bus boom has sparked battles over the community's curbs, sidewalks and air.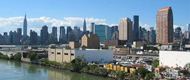 How 'Transit-Oriented Development' Will Put More New Yorkers in Cars
April 21, 2010 — For all its talk of 'transit oriented development,' the Bloomberg administration, a critic contends, has created a lot of parking spaces without offering people much incentive to ride the subway.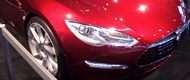 Will Electric Cars Give New York a Charge?
April 05, 2010 — A switch to electric cars could cut pollution and greenhouse gases in New York. But despite that, some experts question whether the city can -- or should -- encourage their use.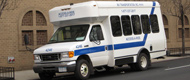 Disabled Fear Cuts to Van Service Will Force Them to Stay Home
March 19, 2010 — Access-a-Ride provides the disabled with a pokey, cumbersome way to travel, advocates say. Now they fear the MTA's proposed cuts will make the service virtually useless.
Pedicab Industry Grapples with Rules, Recession and Rain
February 02, 2010 — Two months after city laws on pedicabs took effect, drivers and owners still feel the pain of a dismal holiday season and wonder what effect the new regulations might have.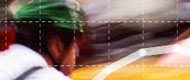 Improving Transportation -- Above Ground
October 27, 2009 — Michael Bloomberg has made major steps to improve transportation in the city -- except when it comes to the subway system.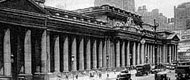 Moynihan Station Moves Forward
September 30, 2009 — After decades of discussion, the plan to restore Penn Stations' grandeur moved has inched a bit forward but hurdles remain. Graham T. Beck reports on where the project stands now.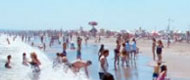 August 12, 2009 — After three tries, a new Mass Transit Tunnel linking New Jersey and New York has broken ground. But advocates question whether this proposal will really ease traffic under the Hudson.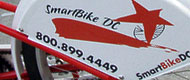 Making Bikes a Key Part of New York's Transportation Mix
April 21, 2009 — A new city report sets out a plan for making bicycles a major part of New York's transportation system. Graham T. Beck detal the proposal that would let New Yorker pick up and drop off bikes all over town.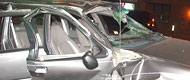 March 30, 2009 — Drivers who kill pedestrians on New York City streets often go virtually unpunished. Advocates think it's time for lawmakers, police and prosecutors to change that.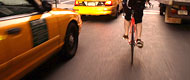 Bike Lanes Run into Opposition
February 09, 2009 — In the never-ending fight for space in the city, bike lanes run into opposition.
Federal Transportation Spending: Pork or Priority?
October 08, 2008 — In the first of our series on key urban issues in this year's election campaign, Graham T. Beck looks at what an Obama or a McCain administration might do to fix the nation's ailing highways and over-crowded buses and trains.
The Downside of Low-Cost Buses
September 18, 2008 — The intercity buses save New Yorkers energy and money. But the boom in bus travel also clogs streets, jam already crowded sidewalks and pollute the air.
Encouraging New Yorkers to Park -- and Drive
August 20, 2008 — New York City zoning rules that require developers to create parking places could negate much of the good work the Bloomberg administration is doing to fight traffic congestion, a new report concludes.
Making Way for New York's Scooter Surge
July 16, 2008 — With gas prices rising, more New Yorkers are riding nimble, energy efficient scooters. Should the city encourage their use?
Albany Puts the Brakes on Faster Buses
June 20, 2008 — In the wake of effectively dooming congestion pricing, at least for now, the State Legislature looked at another measure to ease traffic on city streets. As Graham Beck reports, the mayor and transportation advocates did not fare any better this time around.
Bridging Mass Transit's Budget Gap
May 06, 2008 — The transit system faces a struggle to meet operating expenses and a $17.5 billion deficit in its five-year capital program.
Street Closures and the Battle of Prince Street
April 04, 2008 — Closing streets to cars can make an area more inviting and pleasant for people -- but residents of SoHo worry it could turn their already crowded neighborhood into a street fair for tourists.
Helping Old New Yorkers Get Around Town
February 06, 2008 — Everyone walks in New York but getting up curbs and across streets can present a challenge to thousands of elderly New Yorkers. The city has a plan to make it easier.
January 16, 2008 — Is Bus Rapid Transit an oxymoron?
Tracking and Video: Coming Soon to a Taxi Near You
June 27, 2007 — By next year all taxicabs are to be equipped with tracking systems and video monitors. The taxi commission hails this as a "revolutionary" move to make travel safer and more pleasant. Drivers disagree.
Will the Critics Kill Congestion Pricing?
May 08, 2007 — Transportation: Politicians are lining up to oppose congestion pricing but, writes Bruce Schaller, that could change as the public learns more about its costs and benefits.
Future of Pedicabs Remains Uncertain
April 18, 2007 — The mayor's veto of a pedicab bill continues the debate over what role the cabs can play in the city's transportation mix.
March 13, 2007 — As much as 45 percent of traffic on the city's streets consists of cars searching for a parking space. Bruce Schaller explains one "rock star's" solution -- "market rate pricing of metered spaces."
Sustainable Transportation for 2030
February 13, 2007 — Transportation plays a central role in all of the central challenges that Mayor Michael Bloomberg says is facing in the next 25 years, writes Bruce Schaller, who explains some of the Bloomberg administration's ideas – and some of his own.
Lessons From The Number 7 Train Extension
January 17, 2007 — Financing is in place for the construction of the No. 7 subway line. Bruce Schaller looks at the lessons for getting other big transportation projects done.
Congestion Pricing And The Future Of NYC: Addressing The Objections
December 13, 2006 — If mayor's speech about the city's major challenges for the future specifically mentioned traffic congestion, it was left to the panelists afterwards to bring up one way of reducing it -- congestion pricing, charging a fee for using busy roadways. Bruce Schaller addresses the arguments being made against this solution.
New Congress Will Move On Transportation
November 14, 2006 —
October 13, 2006 — The Metropolitan Transportation Authority is facing ballooning debt, but has postponed dealing with it, Bruce Schaller writes.
Transit Riders – More For Work, Fewer For Fun
September 12, 2006 — Bruce Schaller analyzes recent census data to show that, while more New Yorkers are taking public transportation to work, fewer are taking the bus or subway for fun.
Transportation And The New Governor
August 23, 2006 — Bruce Schaller looks at how New York City's transportation system might fare under a new governor.
July 18, 2006 — The death of three bicyclists in separate traffic accidents has renewed attention to bicycling as a form of transportation. Bruce Schaller explores.
June 14, 2006 — "What will be required to make buses move faster, reduce the waits at bus stops and make the entire experience more comfortable and reliable?" Bruce Schaller asks. The answer, some suggest, is bus rapid transit, or BRT.
Closing The Park Loop Drives To Cars?
May 16, 2006 — Bruce Schaller debates the merits of a City Council bill that would close the drives in Central Park and Prospect Park to cars during the summer.
Staten Island's New Decongestant Plan
April 17, 2006 — Bruce Schaller looks at the new plan to address the transportation problems on Staten Island, the most car-dependent borough of New York.
March 15, 2006 — Bruce Schaller revisits the debate over "congestion pricing" -- making drivers pay to enter the central business district -- in light of new information.
February 13, 2006 — Bruce Schaller looks at the alternatives to the MetroCard that the Metropolitan Transportation Authority is trying out in a pilot program. Will the "smart card" mean the end of swiping again (and again)?
Sorting Out The Transit Contract
January 11, 2006 — Did the transit union gain anything by striking? Will the settlement terms make a future strike more likely? Are subway and bus riders better or worse off? As the vote on the new contract gets underway, Bruce Schaller addresses these and other questions.
Transit Strike -- Negotiating For Respect
December 21, 2005 — Although there were clear dollars-and-cents issues that drove the Transport Workers Union Local 100 to call a strike against the Metropolitan Transportation Authority early in the morning of December 20, Bruce Schaller observes, "respect seemed to be the driving motivating factor."
December 16, 2005 — Bruce Schaller explains the announcement by transit workers president Roger Toussaint that the union board has authorized a "series of strikes," and what the sticking points are in the negotiations between the Transport Workers Union and the Metropolitan Transportation Authority.
December 15, 2005 — For the second time in three years, New Yorkers are bracing for a bus and subway strike. Bruce Schaller details the issues that need to be resolved to prevent a showdown, and hopes for a change in transit labor relations, "which remain in the dark ages."
Transportation Bond Act's Passage May Bring Other Transit Issues To The Fore
November 11, 2005 — Voter approval of the transportation bond act may bring other transportation issues to the fore, such as congestion pricing, security -- and the credibility of the Metropolitan Transportation Authority.
October 17, 2005 — Bruce Schaller offers an overview of the Transportation Bond Act, on the ballot in November.
Katrina's Wake-Up Call For New York?
September 19, 2005 — If a Hurricane Katrina happened here, could New Yorkers find the transportation they need to move to safety?
Campaign 2005: Democratic Mayoral Candidates' Transportation Agendas
August 18, 2005 — Bruce Schaller gives a rundown on the transportation agendas of the Democratic mayoral candidates – those who have agendas, anyway.
July 13, 2005 — In the wake of the London bombings on July 7th, Bruce Schaller details the four basic tasks in dealing with the threat of terrorism in the New York City subway system - and where we are with them.
Cell Phone Use By Drivers -- A Threat To Public Safety?
June 16, 2005 — Although it has been illegal since 2001 for New Yorkers to use cell phones while driving, their use appears to be increasing. Bruce Schaller attempts to answer the question, "is cell phone use by drivers a threat to public safety?"
May 18, 2005 — "Should trolleys – now re-christened light rail – return to 42nd Street for the first time since they were replaced by buses 59 years ago?" Bruce Schaller details a recent proposal.
The State Budget's $38.5 Billion Transportation Program
April 12, 2005 — Bruce Schaller looks at the new $38.5 billion transportation program approved as part of the New York State budget – including money for some of the city's favorite transportation megaprojects.
March 18, 2005 — The number of cars registered in New York City has declined. Bruce Schaller explains the cause and the effect.
February 02, 2005 — Bruce Schaller explains the puzzling missteps of January's subway fire, and some lessons learned.
January 20, 2005 — Bruce Schaller looks at what Governor Pataki's budget means for the transit system.
Should Public Funds Keep NY Waterway Alive?
December 15, 2004 — With the announcement from the president of New York Waterway that the ferry company is "dying," the city is faced with a fundamental question: should public agencies subsidize specific ferry routes to keep them running? Bruce Schaller explores.
Alternatives to Transit Fare Increases And Service Cuts
November 16, 2004 — The Metropolitan Transportation Authority has maxed out its credit cards. Bruce Schaller suggests alternatives to transit hikes and service cuts.
What's Better, What's Worse During Bloomberg's Administration
October 15, 2004 — Complaints about cab service increased 46 percent in the three years since Mayor Michael Bloomberg took office; traffic fatalities declined by 15 percent; 190,000 potholes were repaired, but the streets are worse. Bruce Schaller looks at the Bloomberg administration's own figures to report on what's better, what's worse, what's unchanged in transportation.
Proposed Fare Increases And The Cut In City And State Aid
September 08, 2004 — Proposed fare and toll increases, Bruce Schaller writes, are necessary to pay for maintenance and new projects since both city and state aid have been cut.
How Disruptive Will The Convention Be?
July 13, 2004 — Bruce Schaller details how disruptive the Republican National Convention will be to commuters.
June 14, 2004 — Another big transportation project, a rail freight tunnel between Brooklyn and New Jersey, has moved a step forward with a report that concludes that it's a good idea. Bruce Schaller explains how.
May 21, 2004 — Transportation. Another look at the proposed rail link from JFK to Downtown Manhattan for which the governor has announced his support.
April 21, 2004 — Have the subway and bus fare discounts become too much of a good thing?
Awaiting The Fate Of City-Subsidized Private Bus Lines
March 15, 2004 — When it was revealed that the Bloomberg administration has sat on $150 million intended to replace aging buses for seven city-subsidized private bus companies, critics charged this was the city's way of putting pressure on the Metropolitan Transportation Authority to speed up its takeover of the bus routes.
February 24, 2004 — Bruce Schaller looks at the proposed hike in the taxi fare.
January 15, 2004 — Bruce Schaller analyzes new census information about how New Yorkers travel to work, and how it should change current thinking about transportation improvements.
New Subway Projects And Their Benefits
December 22, 2003 — Bruce Schaller explains how two new reports measure the relative benefits of seven proposed subway projects, from the extension of the number 7 line to the creation of the Second Avenue Subway.
Staten Island Ferry Crash Remains A Puzzle
November 18, 2003 — There are five questions that Bruce Schaller asks about the crash of the Staten Island Ferry in October that killed 10 people – questions whose answers are still only puzzles. One is why city officials are acting so surprised that it occurred.
October 15, 2003 — Bruce Schaller revisits the proposals to toll East River bridges, reporting on two new reports on the issue, and detailing the mayor's shifting position.
September 16, 2003 — The city has taken two years without deciding on a taxi fare increase – and far longer on a much-needed increase in the number of cabs.
August 13, 2003 — The good news is that subway cars break down less now; the bad news is that they're dirtier. Bruce Schaller looks at the worst subway line, and the best subway line, and the report that determined this.
July 17, 2003 — There are a slew of projects that suddenly have new life, such as direct rail service from the airports to Lower Manhattan. But where are the $25 billion to $40 billion for them going to come from? Not, Bruce Schaller suggests, from tolls on East River bridges, and probably not from the federal government.
June 13, 2003 — Bruce Schaller details how some of the budget cuts in transportation are actually improvements - and how most will adversely affect New Yorkers' daily lives.
Making the MTA Play Fair and Square
May 19, 2003 —
Responding To The Terrorist Threat
April 07, 2003 — Transportation facilities such as the airports and the subway system rank high on the list of potential terrorist targets. Bruce Schaller details the steps being taken – and not being taken – to protect them.
March 10, 2003 — It's official — subway and bus fares are going up to two dollars. Bruce Schaller offers details (what will the MetroCard be now?) and explains why the riding public is not up in arms about it.
Options For The Fare Increase; Bridge And Tunnel Tolls; Transportation Plans In Lower Manhattan
February 18, 2003 — If most New Yorkers are asking themselves "how are we going to get around today," Bruce Schaller is asking, how are New Yorkers going to get around in the long-run (and at what cost), as he analyzes some recent official announcements about the future of Lower Manhattan; the planned increase in the subway and bus fares; the bridge and tunnel tolls.
The (Proposed) Trains To The Planes
January 20, 2003 — Bruce Schaller casts a critical eye on Mayor Michael Bloomberg's various plans to create trains to the planes (direct rail access to the airports).
December 16, 2002 —
December 13, 2002 —
Debating Transportation Priorities For Lower Manhattan
November 01, 2002 — Bruce Schaller details the debate over which transportation projects should be funded by the $4.55 billion in 9/11-related federal aid.
October 01, 2002 —
The Help America Vote Act -- The Good News and Bad News For NYC
October 01, 2002 —
Election Special--The Transportation Bond Act
October 01, 2000 —