Work and Labor
Newsletter
Sign up for our monthly Work and Labor newsletter:


Work and Labor Archive: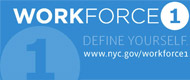 Workforce Program Helps People Find Jobs, Not Careers
October 12, 2011 — Tens of thousands of unemployed New York turn to workforce development centers only to find the programs can polish a resume but can't place people in jobs that do not exist.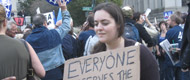 Unions Find Room Under Occupy Wall Street's Umbrella
October 11, 2011 — Spurred by their members, many unions, including some representing New York City workers, have joined Occupy Wall Street, bringing people, clout and expertise.
Public Cuts, Private Reluctance Could Slow Growth in Green Jobs
August 08, 2011 — Despite a push for environmentally friendly jobs and visions of a more sustainable city, the private sector has been slow to create new opportunities.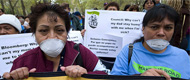 Beyond Resolutions: City Council Must Do More to Help Workers
January 14, 2011 — The City Council has spoken out strongly for improving workers' rights, but so far, an advocate argues, it has failed to pass laws that would make New York a fairer place to work.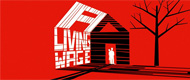 Experience Shows Living Wage Policies Work
December 14, 2010 — Bills in the City Council would require businesses getting city subsidies to pay a "living wage." An advocate argues that, whatever developers and the mayor claim, this approach works.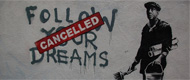 'Living Wage' Would Hurt Young, Unskilled
December 14, 2010 — The Living Wage will actually hurt the very people it purports to help -- the young and inexperienced -- contends a former Labor Department economist.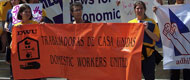 The Next Step for Domestic Workers' Rights
July 26, 2010 — Domestic workers scored a major coup when New York passed a landmark bill to protect nannies, cooks and cleaners on the job. Now comes the tough part: Enforcing it.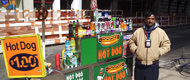 Vendor Rules Promise Less Art, More Cupcakes in City Parks
April 14, 2010 — This could be the spring of discontent for New York's street vendors, as they face new city regulations, $5 milkshakes and 'timed' bathroom breaks.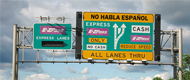 Labor Dispute Silences Spanish at E-ZPass Center
March 09, 2010 — Some politicians want the government to intervene in a heated labor dispute at a privately run E-ZPass center that has cost 14 workers their jobs and cut off service in Spanish.
The Living Wage After Kingsbridge
January 15, 2010 — In the aftermath of the Kingsbridge Armory debate, a more widespread bill on living wages may not come as easily as some expect.